Playing Producer With Dynamite's The Precinct There are a lot of movies and television series that are based on comic books. Wyonna Earp just started up and Preacher, Outcast and more on the way. Captain America: Civil War kicks off a summer that also includes X-Men: Apocalypse and Suicide Squad. We just got word last week that Freeform (formally ABC Family) has ordered a pilot for Cloak & Dagger. Hollywood executives are scouring the shelves of your local retailers trying to find the next big property to grab.
Occasionally I like to play executive producer and think about what property might work that the studios have yet to discover.
Today I am thinking about steampunk. We haven't had a good steampunk movie in a while. Something with a good budget to make the gadgets and effects work. Something of a cross between the Robert Downey Jr.'s Sherlock Holmes and the good bits of League of Extraordinary Gentlemen (Yes, there were some good parts).
Which leads me to the Legenderry world created by Bill Willingham for Dynamite. But not the main story that featured re-imagined characters like Vampirella, Green Hornet and Red Sonja. The spin-off miniseries from Frank Barbiere and Crizam Zamora. The series focuses on a veteran police officer named Mortimer Hill who is partnered with a liaison from the Alchemy Academy named Josephine Winters. They are teamed to investigate a bizarre murder of a higher up from the academy who left a symbol drawn in blood and there are giant mechanical monsters involved. The story is a strong, police driven mystery mixed with the supernatural and the visuals of a steampunk world.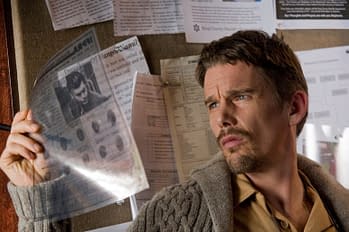 Now I could see how this could easily become a police procedural weekly TV series. You have the basic formula of opposites working together for the greater good. It worked in everything from Miami Vice to Alien Nation. But Alien Nation worked better as a movie as would this. A TV series just couldn't have the budget to do the world justice on a regular basis. You could green screen most of it like Sin City or Sky Captain and the World of Tomorrow. And build the rest of the world in post production.
Then it comes down to casting. In a TV series you could go with new comers or people who have done shows in the past. But to justify a movie with a good budget like this would need, you have to have a few stars behind it. Hill is a veteran cop, so he needs to be older, but not too old. It would also be good to use someone that hasn't played a hero/villain in a superhero film. You want Hill to be a hero but also human. I would probably go with Ethan Hawke. He's got the look, the age and the acting ability to make the world around him believable and a recognizable enough name to get people's attention without busting the budget. For Winters, you want to go with someone younger and less jaded. Someone who has the self-confidence to keep her faith and abilities no matter what she sees. And she should be a red head. I would go with an up-coming-actress with some genre credits here to help bring in the audience… which leads me to Karen Gillen. She used to working in these kind of roles with both Doctor Who and Guardians of the Galaxy and has proven that she can stand up to an overpowering character like Hill.
The trick would then be to find a writer to service the mystery first and not get caught up in the spectacle. No matter how pretty or amazing a film looks, if the mystery isn't engaging and the characters don't have heart, no one will care. And there is a good, engaging mystery to tell. Once you got the script nailed, then steampunk the hell out of it.