Renfield: Nicolas Cage Says This Is Nicholas Hoult's Movie, Not His
Renfield star Nicolas Cage explains that this is Nicholas Hoult's movie, not his, and his Dracula actually has limited screen time.
---
It's good to have proper expectations when it comes to movies, and it sounds like the cast of Renfield is setting out to make sure that we understand what kind of movie you are getting into. If you watched the trailer, you might notice that Nicolas Cage as Dracula has rather limited screen time, even if he is a looming presence that is there throughout the entire runtime. It sounds like that is very much not false marketing and will be indicative of the type of movie we're in for when this weird little thing comes out in April. Collider got the chance to speak to Cage about the film and explained that Dracula is not something you say no to, but also explained that he doesn't have a ton of screen time. Instead, since this movie is called Renfield, Nicholas Hoult is the star of the show, since he plays the title character.
"Well, first of all, I don't know how you say no to Dracula, but two things come to mind," Cage explained. "One, he's a character that's been done well many times and then been done poorly many times. So you want to be on the side of doing something well. And also, you want to be on the side of doing something fresh and something that pops. To me, because the movie's really not about me, Dracula; rather, I don't have a lot of screen time. It's really Nick Hoult's movie, and it's about Renfield. I didn't have the time, like the two-hour narrative, to really dig deep into Dracula's pathos per se. It's not that. But I did have enough screen time to be able to try to develop a pop-art style to the character that hopefully will be a nice contribution to the other performers that have done it, that have had their take on this legendary character in both literature and cinema."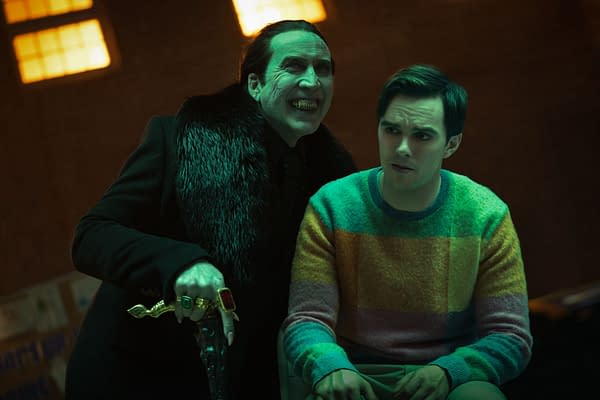 It's a good thing that we are learning this right out of the gate, so people don't go into Renfield expecting a Dracula movie and then sue Universal for false marketing. If there is anyone who can feel like a presence that is kind of hanging out just out of vision, it would be Cage as this version of Dracula. We've already heard that he had a complete blast on set from another co-star, so we can expect that when Cage is on screen, he will chew so much scenery that there might not be any left. I can't wait.
Renfield: Summary, Cast List, Release Date
Evil doesn't span eternity without a little help. In this modern monster tale of Dracula's loyal servant, Nicholas Hoult (Mad Max: Fury Road, X-Men franchise) stars as Renfield, the tortured aide to history's most narcissistic boss, Dracula (Oscar® winner Nicolas Cage). Renfield is forced to procure his master's prey and do his every bidding, no matter how debased. But now, after centuries of servitude, Renfield is ready to see if there's a life outside the shadow of The Prince of Darkness. If only he can figure out how to end his codependency.
Renfield is directed by Chris McKay (The Tomorrow War, The LEGO Batman Movie) from a screenplay by Ryan Ridley (Ghosted series, Rick & Morty series), based on an original idea by The Walking Dead and Invincible creator Robert Kirkman. The film co-stars Awkwafina (The Farewell, Marvel's Shang-Chi and the Legend of Ten Rings), Ben Schwartz (Sonic, The Afterparty), and Adrian Martinez (The Secret Life of Walter Mitty, Focus). Renfield is produced by Skybound Entertainment partners Robert Kirkman and David Alpert (The Walking Dead, Invincible), co-presidents Bryan Furst (Daybreakers) and Sean Furst (Daybreakers), and by Chris McKay. McKay's producing partner Samantha Nisenboim (co-producer, The Tomorrow War) will executive produce. It will be released on April 14th, 2023.