We're still less than a week from Black Panther dropping in the theaters, and while the box office says that everyone and then some saw the movie, we're still not entirely sure on spoilers. This is a small one, but we wanted to be safe than sorry. Director Ryan Coogler and producer Nate Moore were on the Empire Podcast and they talked about why they decided not to have a particular character show up. We've put it behind a spoiler cut just to be safe, because we also address one of the post-credits scenes. .
.
.
.
.
.
.
.
.
.
.
We find out in the second Black Panther post-credits sequence that Bucky Barnes is awake and recovering in Wakanda with Shuri's guidance. When Captain America: Civil War ended and we found out that Bucky was putting himself back on ice until someone could get rid of all the triggers in his head, fans were wondering if he would return for Black Panther to help out Wakanda. According to Coogler, that wasn't in the cards because Bucky would be too broken to really help.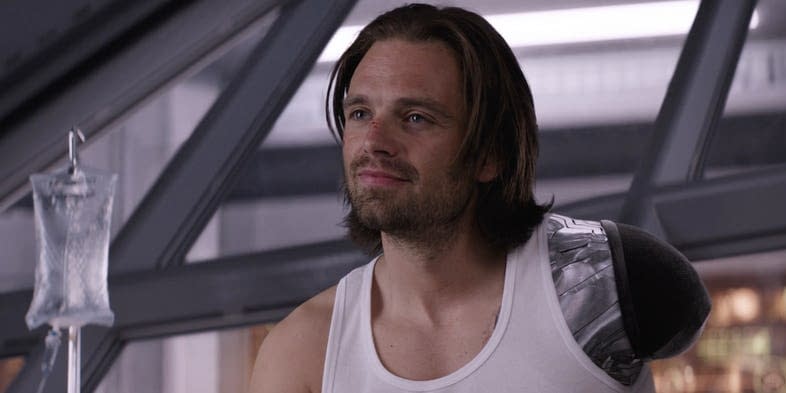 Bucky would have horrible PTSD. He would need spiritual guidance. The last thing he would need to do is jump into that civil war, and so that was kind of the thought process there. And it could be potentially problematic if it's a bunch of Africans fighting and you bring in a White dude, he comes in shootin' people (laughs). We were aware of that. Bucky's not trained to neutralize people peacefully, he's an assassin. We were like, 'I don't know if we can do that.'
It was probably for the best to leave Bucky for the one post-credits scene and that was it. He would have been distracting and take away from T'Challa's story in the movie. T'Challa already feels like he's in danger of having the entire movie stolen from him with his excellent supporting players, so the last thing this movie needed was someone else gunning for the spotlight.
Summary: T'Challa, after the death of his father, the King of Wakanda, returns home to the isolated, technologically advanced African nation to succeed to the throne and take his rightful place as king.
Black Panther, directed Ryan Coogler, stars Chadwick Boseman, Michael B. Jordan, Lupita Nyong'o, Danai Gurira, and Martin Freeman. It's out now.
Enjoyed this article? Share it!