Shazam! Writer Reveals Unused Scenes in Support of Black Lives Matter
Henry Gayden, who wrote the screenplay for Shazam! decided to reveal some extra scenes that never made it to the film on social media. What he calls "A Feat of Strength for a Feat of Strength", the scribe wrote, "For 7 days, I will post never-shot feats from Shazam and ask you to donate – any amount helps! – to the true heroes out there making change happen in real time. 1/7 #blacklivesmatter #featofstrength" All proceeds benefit Black Lives Matter. Global protests sparked from the death of George Floyd while in Minnesota Police custody. Aside from the protests, various contributions come from all over the entertainment and sports industries to BLM. A number of celebrities decided to foot the tab for all legal fees for any protester charged with any penal activity.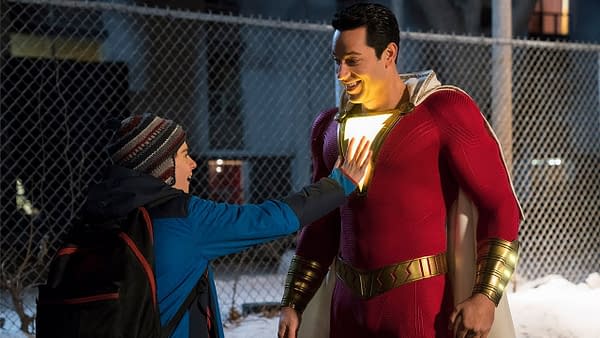 Shazam! Scenes Revealed So Far
The scenes in question were part of the superhero tests for Billy (Zachary Levi) in Shazam form Freddie (Jack Dylan Grazer) conducted. The first was a reference to Superman, where he could leap tall buildings in a single bound. Unfortunately, Billy didn't scale the entire building and ended up crashing into an office and awkwardly leaving, but not before taking some M&Ms. In the second, he tested his strength as he lifted a bulldozer over his head with ease. The third tested Billy's punching ability with some inactive train cars. He compressed the front half of a train car with ease. The fourth reveal was a two-parter with Billy flicking his index finger and thumb to turn a mailbox into a deadly projectile flying like a bullet. The other part was Billy changing back and forth from his normal self (Asher Angel) to his superhero form multiple times to Freddie's glee.
How You Can Help
The protests against police brutality now span the entire globe, and there are many ways you can get involved. You can go out and peacefully protest if you want. You can also donate to numerous organizations that are doing a lot of good work for the cause. Here is a list of just some of them:
Over at AfroTech, there is an excellent list of five apps that can help you find black businesses to help support in these trying times. The rest of us should be supporting, protecting, and lifting up our black friends, family, colleagues, and total strangers whenever we possibly can.