George R. R. Martin Hosts 'Tolkien' Q&A, "Gandalf Could Kick Dumbledore's A$$"
Leave it to George R. R. Martin to continue a literary magic user debate during a Q & A, because that's exactly what he did during the official premiere of Fox Searchlight's Tolkien.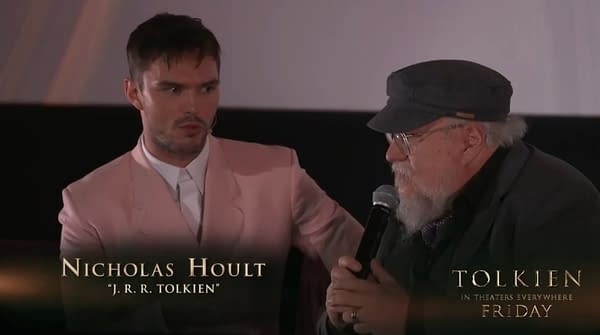 "Gandalf could kick Dumbledore's ASS," the Song of Ice and Fire author exclaimed during his chat with Nicholas Hoult (J. R. R. Tolkien in the film), Lily Cole (Edith Bratt), and director Dome Karukoski.
Earlier this week, Tolkien uberfan Stephen Colbert hosted another Q & A for the film during the Montclair Film Festival, and got into a bit of a nerdoff with Karukoski, which you can read about over here on Entertainment Weekly.
TOLKIEN explores the formative years of the renowned author's life as he finds friendship, courage and inspiration among a fellow group of writers and artists at school. Their brotherhood strengthens as they grow up and weather love and loss together, including Tolkien's tumultuous courtship of his beloved Edith Bratt, until the outbreak of the First World War which threatens to tear their fellowship apart. All of these experiences would later inspire Tolkien to write his famous Middle-earth novels.
Dome Karukosk is directing the film from a script by David Gleeson and Stephen Beresford, which will reportedly follow J. R. R.'s time as a student obsessive about language and an outsider who searched for belonging. He found it with school chums Christopher Wiseman (Tom Glynn-Carney), Geoffrey Bache Smith (Anthony Boyle) and Robert Quilter Gilson (Patrick Gibson) who are all finding their way in the world. Peter Chernin, Jenno Topping, David Ready, and Kris Thykier are producing.
Their close-knit group, calling themselves the Tea Club and Barrovian Society, "gave the confidence to chase his dreams", and followed him into World War I.
Tolkien stars Nicholas Hoult, Lily Collins, Colm Meaney, Anthony Boyle, Patrick Gibson, Tom Glynn-Carney, Craig Roberts, Laura Donnelly, Genevieve O'Reilly, Pam Ferris and Derek Jacobi.
It's set to hit theaters on May 10th, 2019.