Now that Aquaman is a hit and people are interested in DC superhero movies again we won't have to wait long for a new entry in this cinematic universe. Shazam is set to be released this April and already looks completely different from anything we've seen in the DC universe so far. USA Today spoke to star Zachary Levi and shared a new image from the movie. Levi explained what drew him to this role.
"I've always been drawn to characters with big hearts, or they're drawn to me," says Levi.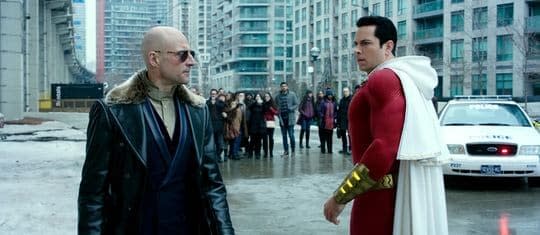 Levi went on to explain what it is about Shazam that will make it appeal to everyone. This is the story of a kid who can turn himself into a superhero and that taps into the basic imagination of everyone's inner child.
"At some point, we all thought, 'If I just believe hard enough, then I can fly or run across the water or read somebody's thoughts.' This is a kid getting to live out those dreams. It's a tale as old as time but of all the superhero movies, it has yet to be told."
When the trailer for Shazam dropped in July fans were very impressed by the tone and how different the movie seemed from anything we've seen in the DC Universe so far. This genre thrives on not only variety of aesthetics but also variety in tone. It's something that the Marvel universe has nailed while DC hasn't yet. Shazam looks nothing like Aquaman which looks nothing like Wonder Woman and that is a good thing.
Summary: A boy is given the ability to become an adult superhero in times of need with a single magic word.
Shazam!, directed by David F. Sandberg, stars Zachary Levi, Mark Strong, Grace Fulton, Faithe Herman, Jack Dylan Grazer, and Asher Angel, and will be written by Henry Gayden and Darren Lemke. It will be released on April 5th, 2019.
Enjoyed this article? Share it!