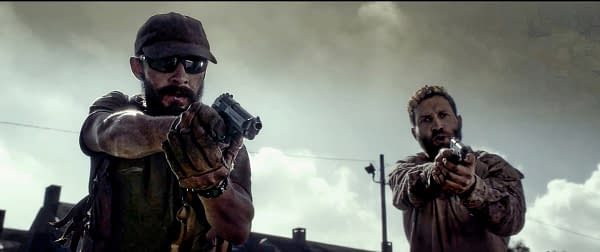 The Transformer's franchise former leading man, Shia LeBeouf has seen a stunning increase in box office sales for his latest feature film of 200%. The less than bright side of that news is that represents only a total of three tickets having been told in total. Man Down stars LeBeouf as an American soldier returning home after a tour of duty in Afghanistan and now afflicted with PTSD.
As one of Hollywood's more recent eccentrics, this might have just been dismissed if it was another of his bizarre performance art stunts like his wearing a paper bag on his head that had "I am not famous anymore" written on the side to the 2014 Berlin Film Festival. However in this case, it's actually a real film, directed by Dito Montiel (Fighting), and also staring Gary Oldman, Jai Courtney, and Kate Mara.
It currently holds a 15% rating on Rotten Tomatoes, which means that it's at least clocking in better than Batman & Robin (11%) and Catwoman (9%).
For clarity, it's actually only showing on one screen in one theater in the U.K. at the Reel Cinema theater in Burnley. After the first day it'd only sold one singular ticket for a total box office take of £7 ($8.70), but it's since skyrocketed by doubling that first day sales selling two additional tickets.
The one week run will not likely be extended unless there's an even more significant uptick in sales, in which case we'll definitely be revisiting the story again.
The official synopsis for the film is:
When U.S. Marine Gabriel Drummer returns home from his tour in Afghanistan, he finds that the place he once called home is no better than the battlefields he fought on overseas. Accompanied by his best friend Devin Roberts, a hard-nosed Marine whose natural instinct is to shoot first and ask questions later, he searches desperately for the whereabouts of his estranged son, Johnathan, and wife, Natalie. In their search, the two intercept Charles, a man carrying vital information about the whereabouts of Gabriel's family. As we revisit the past, we are guided in unraveling the puzzle of Gabriel's experience and what will eventually lead us to finding his family.
Enjoyed this article? Share it!