Shirley Trailer Sees Elisabeth Moss Become Author Shirley Jackson
Shirley Jackson is the subject of a new film releasing on VOD streaming services June 5th from NEON. The film stars Elisabeth Moss, fresh off hit The Invisible Man, as Jackson. The story picks up right before her masterpiece The Lottery is published when a young couple is invited to stay with Shirley and her husband. The film debuted at Sundance this year to wild acclaim and won the U.S. Dramatic Special Jury Award for Auteur Filmmaking at the festival for director Josephine Decker. The film also stars Odessa Young, Logan Lerman, and Michael Stuhlberg. You can watch the trailer and check out the poster for Shirley down below.
Shirley Jackson Is A Great Subject For A Film
"Renowned horror writer Shirley Jackson is on the precipice of writing her masterpiece when the arrival of newlyweds upends her meticulous routine and heightens tensions in her already tempestuous relationship with her philandering husband. The middle-aged couple, prone to ruthless barbs and copious afternoon cocktails, begins to toy mercilessly with the naïve young couple at their door."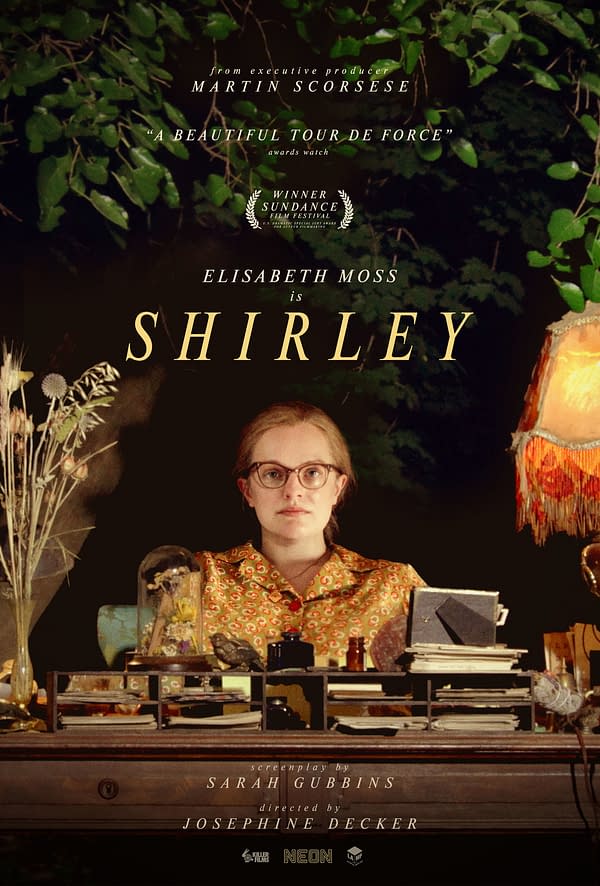 This is already my leader in the clubhouse for Oscar season this year. Moss looks like she was made for this type of role, and the manic energy coming off this trailer is incredible. As a Shirley Jackson fan anyway, any chance to see the author and her story put onscreen is a plus in my book. It looks like there is great care and effort put into this film, and screenwriter Sarah Gubbins has some truly great lines in that trailer. This one is now number one on my must-watch list and will be first in line to stream int when it becomes available on June 5th.