Right now in Los Angeles California, the Millennium Falcon is parked on Hollywood Boulevard for the official world premiere of Solo: A Star Wars Story tonight.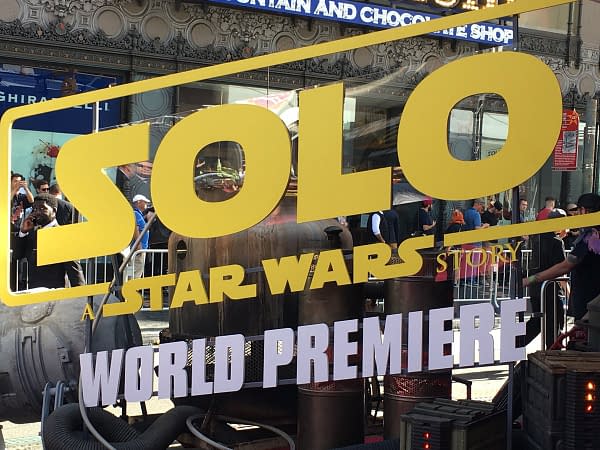 There will be various interviews, and probably some of the cast and crew who'll stop by and speak with Star Wars' official correspondents on the carpet. You can watch along with their live feed via twitter here:
We're live from the red carpet for the world premiere of Solo: A Star Wars Story! Presented by @NissanUSA. #ad https://t.co/QtxmRVQCMt

— Star Wars (@starwars) May 11, 2018
And on facebook here.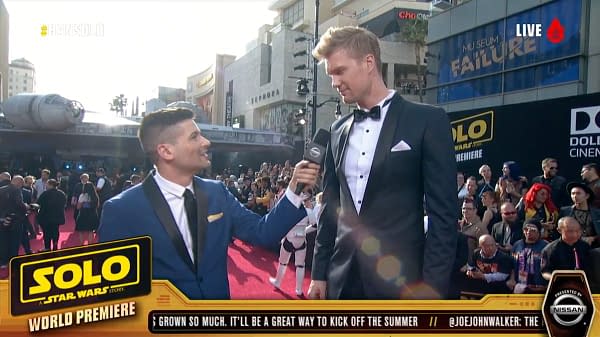 First person who stopped by on the feed is Joonas Suotamo, the actor who's taken over playing Chewbacca from Peter Mayhew after first appearing in Star Wars: The Force Awakens. He spoke about not being recognized outside of his Wookie costume, and that he does his best to play Chewie as much like Peter as he can.
"If I don't get recognized, I've done my job well."
Also, one of my favorite things I didn't notice til someone pointed it out- the cockpit recreation on the carpet is actually some of the SOLO brand cups.
Great premiere product placement #SoloAStarWarsStory pic.twitter.com/UM5K4mybw9

— Mia Galuppo (@miagaluppo) May 11, 2018
Spirits seem as high as Cloud City right now, lots of smiles and laughter.
VFX superviser Robert Bredow says we'll be seeing Corellia in the film, and VFX super visor Patt Vubek talks about how "beautiful every shot it".
Paul Bettany talks about his first time seeing Star Wars as a kid, and his first day on the set of Solo. "This R2 unit went by with champagne flutes on his head, and I was like OH MY GOD I'M IN STAR WARS." Paul says his character Dryden is good at being bad, "he's like the Godfather".
"Han shot first!" Paul says, and the crowd reacts. "This movie is when he discovers that it's better to shoot first."
One of the new clips shown during the carpet had the signature asteroid field music in it, and people on twitter are so excited (rightly so).
Dave Filoni stops by, and in typical Filoni fashion, is talking about the next chapter of the animated saga.
Here's a collection of the likely-to-attend talent on the carpet, keep your eyes out for them:
Tonight's cheat sheet. #SoloAStarWarsStory By the way, follow @GMA on Instagram for updates from the red carpet. pic.twitter.com/AGur0ZW1zO

— Clayton Sandell (@Clayton_Sandell) May 11, 2018
Keep an eye out later tonight when the first reactions (we'll only show you the spoiler free ones) hit twitter.
Enjoyed this article? Share it!