The beauty of awards season is that we get a number of roundtables with various awards contenders that bring about some fascinating tidbits.
While Bombshell will not be out in theaters for a few more weeks, screenwriter Charles Randolph revealed something about his approach to writing the film during The Hollywood Reporter screenwriters roundtable. Randolph shared his approach to writing Bombshell while on a roundtable with Lorena Scafaria (Hustlers), Taika Waititi (Jojo Rabbit), Kasi Lemmons (Harriet), Anthony McCarten (The Two Popes) and Destin Daniel Cretton (Just Mercy).
All the writers on the roundtable were apart of films that are based on real-life stories. Okay, so Jojo Rabbit may be based on a fictional story a bit but everything else is based on events that actually happened. The Two Popes, for example, does take some dramatic liberties in telling the story of Popes Benedict and Francis.
Randolph never had the chance to meet Roger Ailes before the Fox News executive passed away. The writer preferred taking an empathetic approach to Ailes in writing the film.
"I prefer to write people who I don't agree with because I can counter, I can turn the scene so many more times, because I naturally have an instinct to counter their ideas. And then to force myself to back and sort of do that tit for tat. So, I prefer to write conservatives than liberals."

He added: "I think any time you write a human being, it does some form of giving you an empathetic relationship to their place in the world. And that is so helpful, even in perpetrators or misdeeds."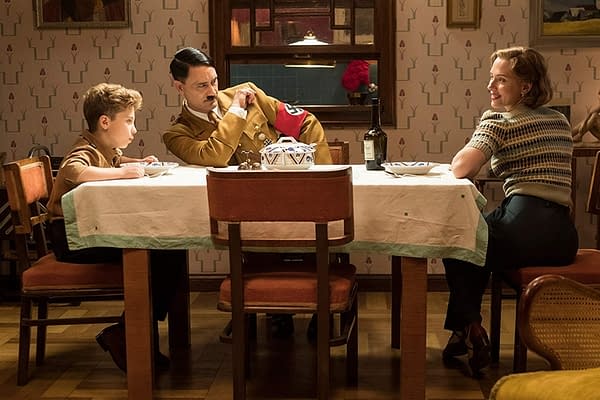 Interested readers can check out the transcript on The Hollywood Reporter's website.  There's some fascinating stuff in there, including Waititi opening up about his approach to portraying a fictional version of Hitler:
I had no interest in writing an authentic portrayal, even though I played him, too. Because I just didn't think he deserved it. And I didn't want to give him the satisfaction of me actually having to read about him and study his nuances and mannerisms. I was like, "Screw this guy. I'm not going to do that."
Of course, it wouldn't be a roundtable without diving into the Scorsese drama. Waititi disagrees with Scorsese and expanded on those comments:
Having worked for Marvel, I know how much work goes into breaking stories for those films, the shooting and the postproduction. It's all based on story and affecting people emotionally. Maybe it's too colorful for him.
Waititi added:
Comics and graphic novels, people have always laughed at them as not being real art or real stories. It's simply not true. Superheroes are our new mythology. At the end of the day, stories are either teaching us lessons or helping us experience the human condition in different ways.
The full roundtable will be televised on February 2, 2020, on Sundance TV. Bombshell won't be released in theaters until sometime in December.
Enjoyed this article? Share it!