"Zombieland: Double Tap" Featurette is Fun Times at the Apocalypse
It's hard to believe Zombieland: Double Tap is a mere month away from release considering its predecessor was 10 years ago. While stars Woody Harrelson, Jesse Eisenberg, and Emma Stone look the same for the most part, it's Abigail Breslin, who's physically changed the most becoming an adult since the 2009 film.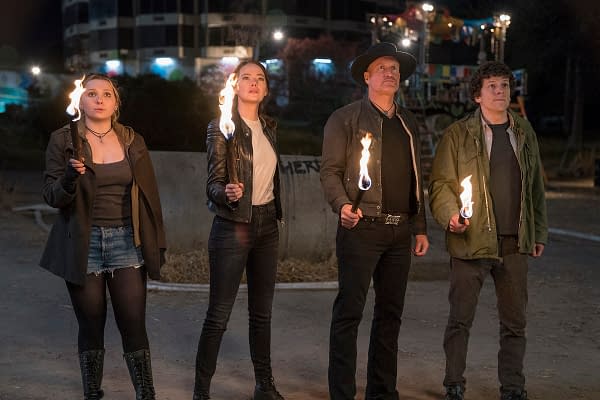 Sony Pictures released a featurette that takes the primary cast back to the funapalooza videogame ride through the two films asking what questions like "What makes Zombieland so fun?" on top of the more in-depth look into the new characters making the appropriate "how long will you survive" comments toward one another. On top of the four reprising their roles as Tallahassee (Harrelson), Columbus (Eisenberg), Wichita (Stone) and Little Rock (Breslin), we get a glimpse at the additional survivors who for some reason maintain their place of origin code names to keep consistent with the 2009 film so as "not to get too attached" during the apocalypse.
In the featurette we get additional scenes with take-no-nonsense Nevada (Rosario Dawson), the ditzy Madison (Zoey Deutch), Little Rock's new friend Berkley (Avan Jogia), as well as the Tallahassee and Columbus "clones," Albuquerque (Luke Wilson) and Flagstaff (Thomas Middleditch).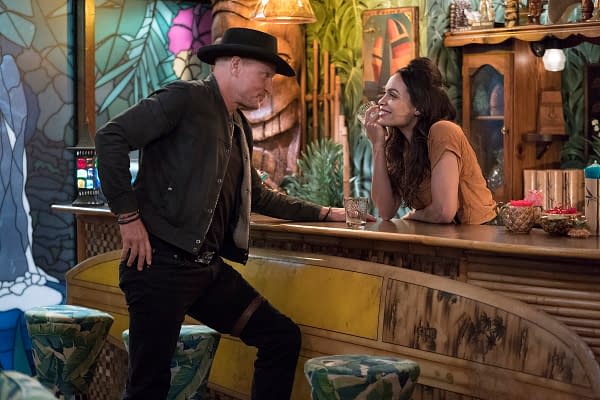 What sets apart Zombieland from other zombie apocalypse films and franchises is that it never takes itself too seriously and never takes the humor beyond obnoxious parody. From the looks of Double Tap, it seems like director Ruben Fleischer along with returning writers Rhett Reese and Paul Wernick with newcomer Dave Callaham at least on the surface, honoring the legacy of the original.
With an expanded cast, comes greater threats and possible more epic cameos with Bill Murray returning and fellow Ghostbusters and SNL cast mate Dan Aykroyd set to join. Zombieland: Double Tap comes to theaters October 18.