 There are some big reveals at the end of Guardians of the Galaxy Vol. 2 when it comes to the future of the Marvel Cosmic Universe and director James Gunn stopped by IGN to talk about them. However, to get into that requires a pretty major spoiler warning so if you're one of the people that hasn't seen Guardians of the Galaxy Vol. 2 perhaps come back to this article after you've seen it. For the rest of us let's find out how the weirder side of the MCU is going to change going forward. .
.
.
.
.
.
.
.
.
.
.
.
.
.
.
.
.
.
.
.
.
.
.
.
.
.
.
.
. While ultimately not our big bad Ayesha, played perfectly by actress Elizabeth Debicki, did have a major role to play throughout Guardians of the Galaxy Vol. 2. However, the place where she could ultimately change the MCU comes in one of the five mid-credits scenes. Ayesha has just lost a majority of the Sovereign's ships trying to kill the Guardians and it looks like she might get in trouble for it. However, she looks up at a new "birthing pod" that looks quite familiar to comic fans. She says that the council won't be mad once they see her new creation and decides to call him "Adam". Marvel fans thought they saw the cocoon of Adam Warlock in the Collectors room but this is the first time he has been definitively brought up in the MCU. IGN asked James Gunn about Adam Warlock and whether we would see him in the future.
"I love Adam Warlock. He's really one of my favorite characters. … I think we can expect to see Adam Warlock in the future of the cosmic universe. It'll be after Infinity Wars, which I think is good for people to know, but he'll become part of the cosmic universe.
So it sounds like we are getting Adam but not until after Infinity Wars which makes sense. The Marvel slate until after Avengers 4 is pretty full and Gunn doesn't seem like the kind of guy that wants to be rushed into production. Also, considering how well the Guardians movies have done he likely has enough leeway at Marvel to ask for a break before getting started on the already announced third movie.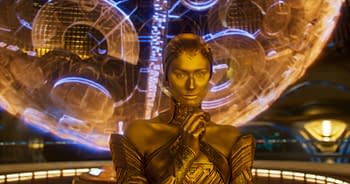 That being said if we are getting Adam it sounds like he is very much going to be linked to Ayesha. Since she is still alive at the end of Guardians of the Galaxy Vol. 2, does this mean she's coming back? Gunn confirmed that she is to IGN.
"I absolutely plan on bringing Elizabeth Debicki back. She's actually one of my favourite actors I've ever worked with. I think on this movie between her, Pom Klementieff who plays Mantis, and Chris Sullivan who plays Taserface, they really were three of the best actors I've ever worked with and were all such a joy on this film to deal with that I would love to deal with them again."
While Adam Warlock fans are not doubt excited to see that he's on the horizon of the Marvel Cosmic Universe it sounds like we do have a bit of a wait to see him or Ayesha again. However, Warlock is apparently one of Gunn's favorite character and we all know that people who love and respect the source material tend to do a better job adapting it. Gunn clearly has a plan or he wouldn't have announced a third movie.
Or he just didn't want to answer the same question over and over again on the press tour. Either way fans of the Cosmic Universe have a lot to look forward to between this and the original Guardians group also shown in a mid-credits scene.
Related Posts
Enjoyed this article? Share it!