Now we know what those "Netflix Is A Joke" billboards were referring to. Netflix debuted a no promo trailer during the Emmy broadcast that showed comedians Ellen DeGeneres, Jerry Seinfeld, Dave Chappelle and Chris Rock — all of whom have stand-up deals with Netflix — making fun of a few of their original series. Seinfeld rolls into a scene from House of Cards with Kevin Spacey as Frank Underwood. Chappelle confronts the kids from Strange Things and it goes on from there.
The bits play off the scenes they are showing, like Chappelle asking the kids, who are trying to break into the computer lab, to erase his browser history. Rock references O.J. Simpson to start a riot on Orange is the New Black and DeGeneres makes her way into The Crown to explain to John Lithgow's Winston Churchill that he has bad breath.
All of this to promote the upcoming stand-up specials.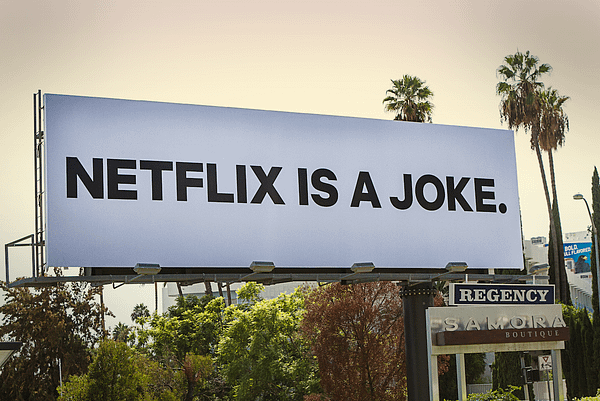 Update – I've found out that the ad campaign, including the billboards that showed up all over the place saying "NETFLIX IS A JOKE", was the work of an L.A. based creative shop called Battery Agency. They've done a number of video game related campaigns for games like: Mortal Kombat X, Batman: Arkham Knight, Injustice and Heroes of the Storm. They do some nice work.
Netflix's latest stand-up special, Jerry Before Seinfeld, launches Tuesday, Sept. 19 at 12 a.m. PT.