Comics legend Stan Lee is gone, but his legacy will live on in a series of cameos he filmed for Marvel Studios films before his death last year. The next time we'll be seeing Lee in a film is Captain Marvel, which will be hitting theaters within the next week.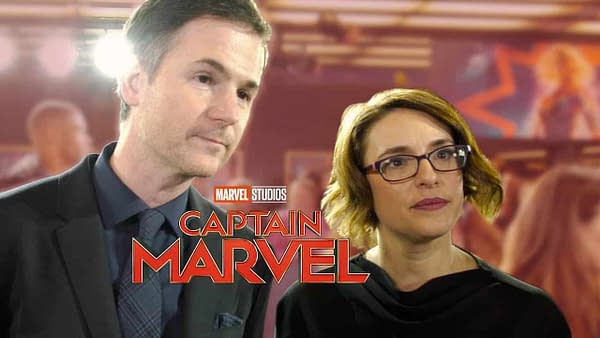 Co-director Anna Boden (first female director for a Marvel Studios property, only took them 21 films) spoke to Metro about how the London audiences reacted to the film (and Stan's cameo) following the UK premiere of Captain Marvel:
"I don't want to get fired now, of all times. t would be so weird if I got fired at this point in time. So I don't want to say anything I'm not supposed to say, but just that it was… we did want to kind of have a moment and tribute to Stan Lee in this movie, obviously. It was something that came from Marvel and when they showed it to us, there was not a dry eye in the house. It was really emotional."
Co-director Ryan Fleck had said of the cameo previously:
"It's just great when he comes on set it's, uh, it's a real honor to meet him. He's a legend in this business and, uh, everyone really like pays attention and people come out of the woodwork, you know, some crew member you didn't even know will come out trying to shake his hand."
The first "public" screening of Captain Marvel happened in Los Angeles and so far, the reactions are overwhelmingly positive. Everyone loves Goose the cat, everyone loves Ben Mendelsohn, and everyone LOVES Brie Larson as the good Captain. (You can read about the first reactions here.)
Anna Boden and Ryan Fleck are directing from a script they wrote with Liz Flahive, Carly Mensch, Meg LeFauve, Nicole Perlman, and Geneva Robertson-Dworet.
Captain Marvel stars Oscar winner Brie Larson as Carol Danvers, Samuel L. Jackson as Nick Fury, Jude Law as the commander of Starforce (who may or may not have two names), Clark Gregg as Phil Coulson, Lee Pace returning as Ronan the Accuser, Djimon Hounsou as Korath the Pursuer, Gemma Chan as Minn-Erva, Ben Mendelsohn as Skull Commander Talos, Lashana Lynch as Maria Rambeau, Algenis Perez Soto, McKenna Grace, and Annette Bening in as-yet-undisclosed roles.
Captain Marvel is set to hit theaters on March 8th 2019 (International Women's Day), and tickets are on sale now.
Enjoyed this article? Share it!