Now that Star Wars: The Last Jedi has come out on home release it's time to really start looking at Episode IX. We know that it's set to start filming this summer and that director J.J. Abrams has a finished script. Star Wars News Net was recently on a call with star John Boyega and Boyega was asked about pressure, self doubt, and more when it comes to playing Finn.
"Definitely, you feel the pressure when it comes to any role, but with The Force Awakens we had so much time auditioning that the role was already built up, that by the time I got to the fourth or fifth audition, I felt like I knew who Finn was, I felt like I knew how I was going to perform him exactly. So by the time of principal photography, you know exactly where the character is going to go, and so being so heavily involved, especially with J.J. bringing us in and being able to discuss, and rehearse, it makes for an easier transition going from myself to a character like Finn."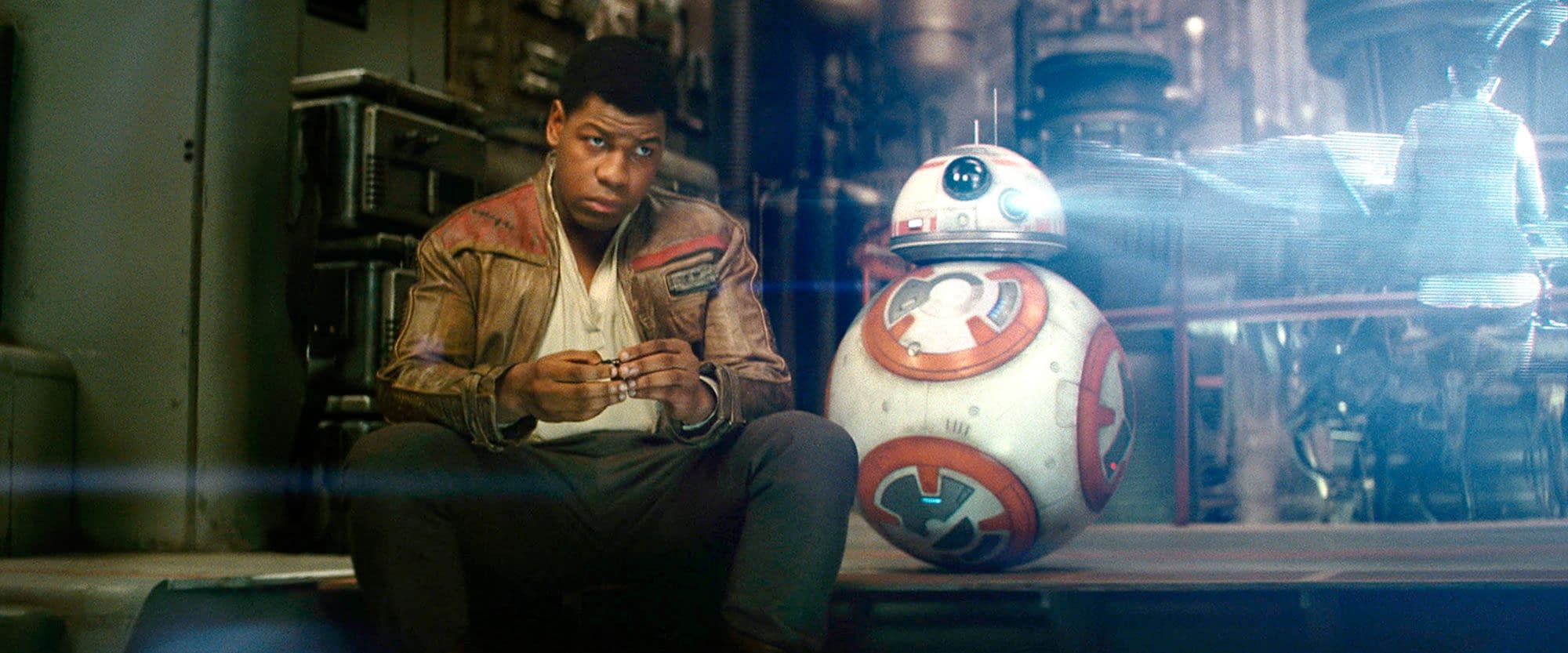 When asked what stands out to him about interactions with Star Wars fans Boyega talked about not having to pretend to like the series because he's a fan like everyone else.
"Yeah! One thing that stands out is that I am not pretending to like Star Wars. It has been a part of my life for a very long time, I love getting into discussions with fans when I meet them, so that element to me, that's what really makes it a dream. I grew up on The Force Unleashed video games, I read the expanded universe books, I've done all of that so to be able to discuss that with them and to tell them how it feels as a genuine fan is a cool thing!"
Finally, Boyega was asked what's next for him now that Pacific Rim Uprising is finally coming up.
"Next for me filming wise is Star Wars: Episode IX in July, and they've officially given us a note to start training soon. I'm going to take a holiday before that, because I think Episode IX you know, regardless of where the story goes, and I haven't read it by the way, is going to be all out war so I know that I'm going to have to do all I can and train for that."
We're probably a year away from learning anything concrete about this movie but considering that this one is going to wrap up the trilogy Boyega's prediction of "all out war" seems pretty likely. They need to wrap everything up pretty tightly otherwise fans will be insufferable and won't let Rian Johnson, David Benioff, and D. B. Weiss make their own trilogies in peace.
Star Wars: Episode IX, directed by J.J. Abrams, will star Daisy Ridley, John Boyega, Oscar Isaac, and Adam Driver with unconfirmed but assumed to be returning cast members Domhnall Gleeson and Lupita Nyong'o. It will be released on December 20th, 2019.
Enjoyed this article? Share it!