Star Wars has always been about family, and these new movies are proving no different. Today, we learn more about what role General Leia (Carrie Fisher) will play in her final film. Leia has lost her husband, lost her son to the dark side, and her brother is lost to the world — but those aren't the only people Leia considers family. In the new issue of Entertainment Weekly Oscar Isaac revealed that the relationship between Leia and Poe is deeper than that of just a general and soldier:
"Poe is in some ways a surrogate son for Leia. But also I think she sees in him the potential for a truly great leader of the Resistance and beyond."
If anyone has read the supplemental material, they know that Leia and Poe are close, but it's going to be really cool to see that fleshed out in the movie properly. Isaac continued:
"Poe's arc is one of evolving from a heroic soldier to a seasoned leader, to see beyond the single-mindedness of winning the battle to the larger picture of the future of the galaxy. I think Leia knows she won't be around forever and she, with tough love, wants to push Poe to be more than the badass pilot, to temper his heroic impulses with wisdom and clarity."
Everyone on the set has their favorite Carrie Fisher stories, but Isaac had the best one, and it's more than little heartbreaking to hear: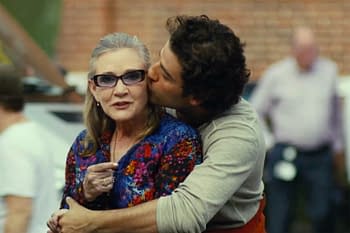 "One of my favorite things that would happen from time to time on set would be when Carrie would sing old songs. Whenever that would happen I would offer her my hand and we would waltz around the set – on a starship, in a Rebel base, on an alien planet, and she would sing and we would dance. So surreal and beautiful to think about now. For all of her delicious, wicked humor and fiery energy she also had such sweet grace. I miss her dearly."
The whole world is just a bit darker without Carrie Fisher in it.
Summary: Having taken her first steps into a larger world in Star Wars: The Force Awakens (2015), Rey continues her epic journey with Finn, Poe and Luke Skywalker in the next chapter of the saga.
Star Wars: The Last Jedi, directed by Rian Johnson, stars Daisy Ridley, John Boyega, Mark Hamill, Oscar Isaac, Carrie Fisher, and Adam Driver. It will be released on December 15th.
Enjoyed this article? Share it!