"Star Wars": How [SPOILER] Returned for "Rise of Skywalker"
If there's one thing Star Wars: The Rise of Skywalker much less the franchise, in general, relied on is allusions to its past. One scene came near the film's climax. Director J. J. Abrams and screenwriter Chris Terrio spoke to Vanity Fair about the process to bring it together.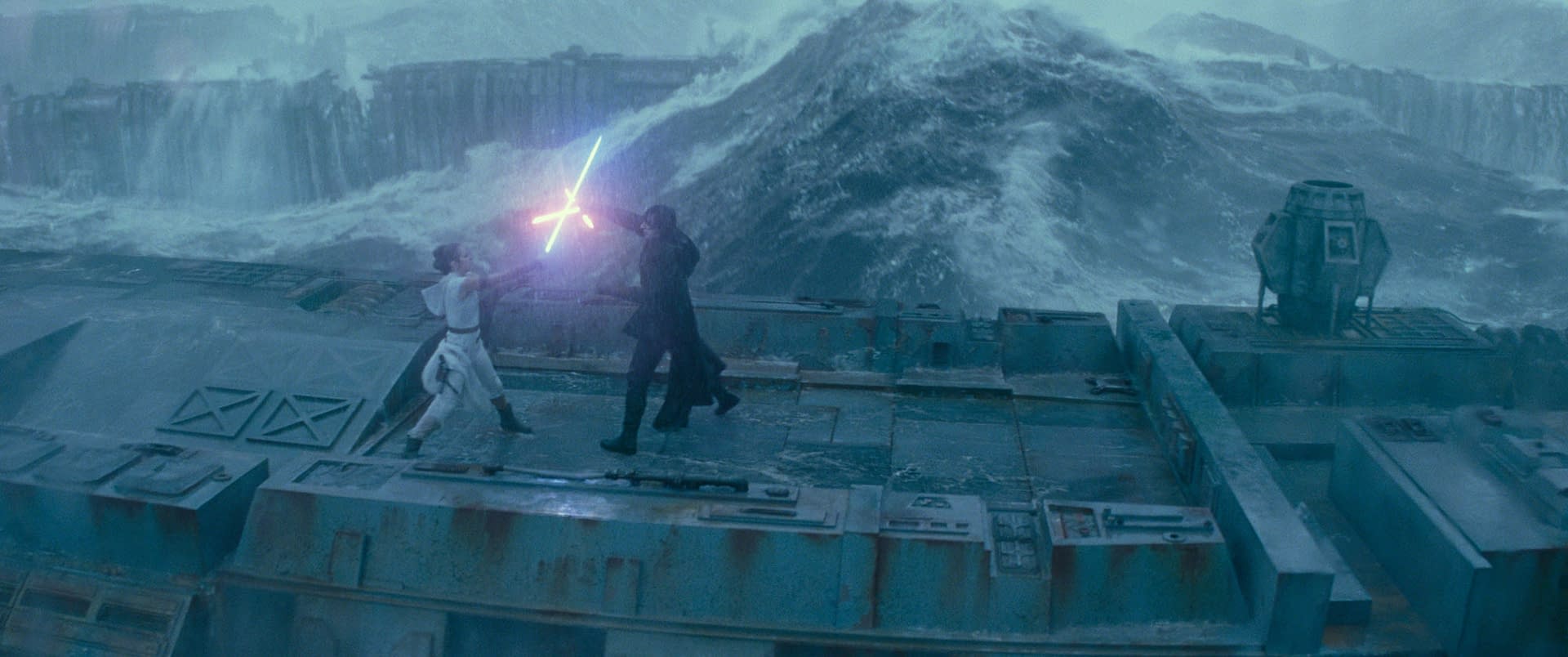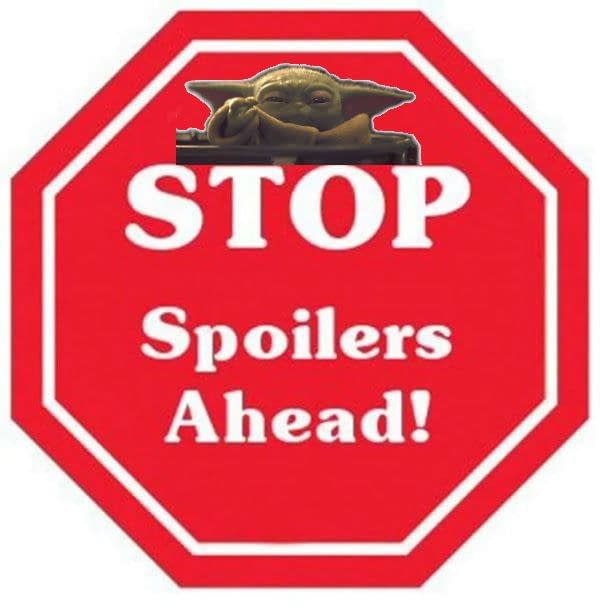 .
.
.
The Scene in Question in Star Wars: The Rise of Skywalker
Kylo Ren (Adam Driver) and Rey (Daisy Ridley) fought their final battle on the Sith planet of Exegol. With her last ounce of strength, Leia (Carrie Fisher) reached out to her son through the Force giving him pause. Rey used the moment to pierce him with a lightsaber ending their fight. The former Ben Solo became mortally wounded.
Rey saved him using the Force healing the wound. As Rey ran off to confront the Emperor (Ian McDiarmid), Ben found himself at a loss. Trying to make sense, Han Solo (Harrison Ford) appears in front of him. Despite Solo dying in The Force Awakens, his son conjured him from his mind to make peace.
The two exchanged the same lines from their confrontation on Starkiller Base, but Ben let go of his conflicting feelings choosing to embrace the Light. Before he can express his love for his father, Han repeats his line from The Empire Strikes Back (ESB) to Leia and says, "I know."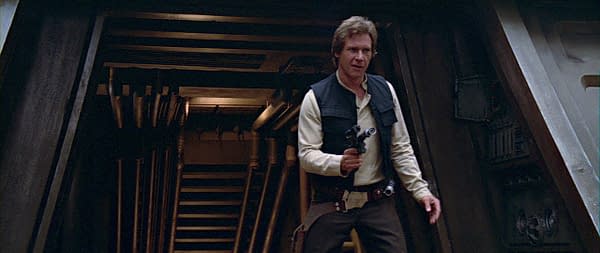 Ford's Attempt to Move on from Han Solo
Ford developed a love-hate relationship with Solo since creator George Lucas convinced him to film Return of the Jedi (RotJ). His fate left uncertain in ESB because Lucas was uncertain of Ford's status. The 77-year old actor said he wished Lucas let him die in RotJ because he felt he had no purpose following the rescue from Jabba's Palace.
Ford got his wish in The Force Awakens. At Starkiller base, Solo made one last-ditch attempt to reach his son. Initially, a breakthrough turned betrayal as Kylo turned his lightsaber on his father and killed him. Solo cupped his son's cheek with his right hand affectionately before falling to his death.
The Return
Abrams talked about the call he made to Ford to return for The Rise of Skywalker.
"I said, 'We want to have a scene in the film between Kylo Ren and his father, would you do it?' And he said, 'Okay. [As Ford] It's not more interesting!'"
Abrams said Ford wanted to make sure his character served a purpose.
"We had a meeting and talked about what it would be. Harrison, who is one of the great people ever, and incredibly thoughtful about everything that he does, all he ever wants is to understand the utility of the character. 'What is my role?' It was about sitting with him and explaining what our intention was. We talked about it for quite a while, I sent him the pages. He got it, and of course, as you can see, he was wonderful."
Abrams said he wanted the audience to understand the scene happened in Ben's head and Solo wasn't a Force ghost. Terrio said the scene was triggered by Leia's last act to turn him back to the light.
"At least for J.J. and I, we thought that this finally was Ren, after the death of his mother, being able to really ask for forgiveness, to ask his father for forgiveness, and make some kind of peace. He cannot go back and take back what he has done to his father, but as Han says, 'Your mother's gone but what she stood for and what she fought for, that's not gone," so he still can make amends in the future."
Abrams explained as Kylo Ren, killing his father haunted him and Rey was seeing right through it.
"Why do you think he wants to kill the past? It's like there's this thing that is haunting him. It's not until he's shown compassion by Rey that he allows himself to have that conversation. It's the thing that will crush him, and the idea that he knows the spirit of his father would give him permission and encouragement to go to the light side."
Abrams said he never thought he revisit the moment between father and son when he didn't originally plan to direct Rise of Skywalker. He imagined the scene also carried extra weight on Ford who never thought he'd be back either.
"To see two characters that are these traditionally pretty tough guys be so vulnerable to me speaks to the beauty of what Star Wars has always been. Star Wars was always a story of the underdog and this inclusive sort of world where anyone, organic or synthetic, male or female, doesn't matter what your race or species, it's an equal opportunity place. So I just love having these two men not behaving in a way that you'd necessarily expect to see either of them… And of course having Han get to pay off the "I know" with his son, that was incredibly touching."
The Rise of Skywalker is in theaters.