Suicide Squad: Adam Beach Reveals Slipknot Deleted Scene
Ever since HBO Max's announcement of the Zack Snyder cut of Justice League (2017), a hopeful few dreamed of David Ayer's cut of Suicide Squad (2016) seeing the light of day. To get the ball rolling, Adam Beach, who played the ill-fated Slipknot in the 2016 film, answered a fan inquiry about what the Ayer cut includes. Among the scenes excluded in the final theatrical cut Beach confirmed was added backstory for Slipknot. He tweeted, "There was an opening sequence of how I got caught for the Suicide Squad program that was pretty cool." In the original film despite being warned about the kill switches that detonate upon Amanda Waller's (Viola Davis) command with a single push on her tablet, the villain made a break for it followed by instant decapitation. As far as who captured Slipknot in Suicide Squad, Beach revealed it was Wonder Woman (Gal Gadot) around the film's release.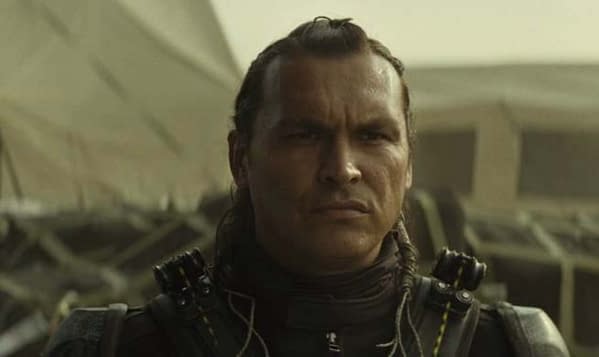 When inquired about his reasoning to omit the sequence, Ayer told Empire (H/T via Screen Rant), "Yeah we shot one, but after a point, it became overloaded. Ya know, so you have to cull and pick and choose your battles. Slipknot gets his head blown off pretty quick. I made a commitment early on not to try and create some kind of misdirect, because when you have that many characters every frame of real estate is priceless, and I didn't want to invest in that real estate to create some misdirect because after opening night everyone knows he dies anyway." When inquired about what it would take to complete his cut, Ayer responded, "My cut would be easy to complete. It would be incredibly cathartic for me. It's exhausting getting your ass kicked for a film that got the Edward Scissorhands treatment. The film I made has never been seen." The Ayer cut of Suicide Squad hasn't gotten the attention the Snyder cut of Justice League had, because the changes weren't likely as dramatic. When Snyder had to abandon Justice League to deal with a personal matter, director Joss Whedon took over to complete the film with numerous scenes that needed to be reshot.