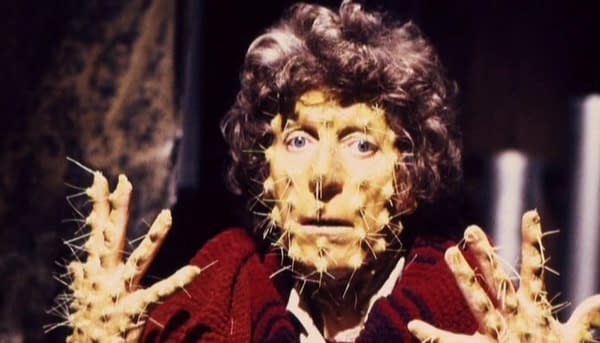 We really don't have a clue. But we can make some educated guesses, teases and semi-sourced leaps of faith. Enough to deserve that SPOILERS warning up top. Just in case.
1. Okay then, well, we still think we may well get Marco Polo, and maybe more, by the end of the year.
2. Steven Moffat may be calling Peter Capaldi the Twelfth Doctor. We'd called him the Thirteenth, or just The Last Doctor. Turns out we may have been wrong. On our maths if nothing else, he may well be the Fourteenth Doctor. Because some now say that Matt Smith is the Last Doctor, Capaldi is… the result of what happens when the Doctor goes beyond his final life. Those Sisters Of Karn are there for a reason. I don't suppose all those other face of The Doctor we saw in The Brain Of Morbius, alongside the sisters, will come into play?
3. There will be a total of fifty-something incarnations of The Doctor next week, one of whom will be played by Ryan Gosling. If he turns up.
4. The Valeyard is also a part of the fiftieth anniversary episode. What, you think Steven Moffat name dropped him in the most recent episode for a bet?
5. If BBC America want to sell some prints of all of the Doctors to date, then The Day of the Doctor might give them the perfect tie-in opportunity.
6. The fiftieth anniversary episode is full of nods to the past. Including someone riding a motorbike into the TARDIS, as in the Paul McGann TV Movie, and The Doctor addressing the audience, just like The Feast Of Steven.
7. And no, The Feast Of Steven hasn't been found.
8. With all these doubles at play in Doctor Who thanks to insular casting – could that be another way to get past Doctors into the fiftieth anniversary? Including what we are still hearing, a Tom Baker cameo?
9. Could it be writer Frank Cottrell Boyce bringing us double episode Dalek story in the next series? Directed by Ben Wheatley, and planned to shoot first, if not necessarily air first…?
10. And the direction for the next series? I'm told classic Hinchcliffe, a gothic tone and to write Capaldi like they did for Tom Baker… and the next series of Doctor Who will start in the spring so, again, expect a split.
Okay, let's see how we do…
Enjoyed this article? Share it!