The Blade Trilogy Gets an Honest Trailer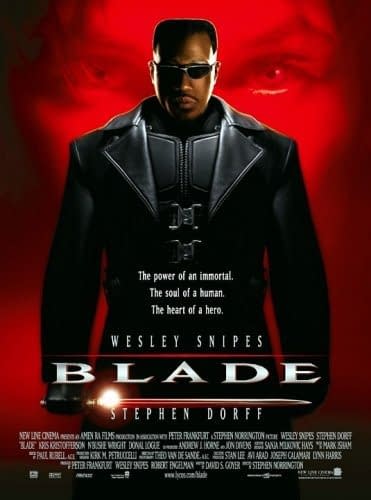 With this being the opening weekend for Black Panther, the folks over at Screen Junkies decided to do an Honest Trailer for the Blade Trilogy of movies. As much as X-Men, Spider-Man and Iron Man get credited for building up the Marvel Cinematic Universe, before all of them was Blade. The film was a hard R, featured a African American lead and was based on a comic book character more obscure than the Guardians of the Galaxy. Blade was light years ahead of any Marvel film that came before it and paved the way for what came after. Heck, they even figured out that having a big CGI ending fight scene was a bad idea twenty years ago.
Yes, Blade Trinity was not exactly good. But it did give us a wise-cracking Ryan Reynolds and that seemed to pay off pretty well in the end. And it wasn't nearly as bad at Spider-Man 3.
Wesley Snipes portrayed the Daywalker as well as anyone could and I still like the "trying to ice skate up hill" line. And besides Snipes and Reynolds, you have Kris Kristofferson, Stephen Dorff, Jessica Biel, Patton Oswalt, Donal Logue, Ron Perlman and Dominic Purcell. Plus one of the films was by Guillermo del Toro, and not even the best of the three.
This Honest Trailer makes me want to rewatch the films…. or at least the first one.