The Flash Will Screen At CinemaCon 2023 In April
The Flash will be making its big screen debut at CinemaCon in Las Vegas in April 2023, almost two months before its June release date.
---
The Flash has been hanging out in development hell long enough that it could be a case study for how having a recognizable IP doesn't mean it will be smooth sailing to the big screen. The first trailer dropped this month, and we have started getting some pieces of marketing, but it's still unclear whether or not the behind-the-scenes issues with star Ezra Miller will have any impact on this film in the long run. No matter how good any of this looks, the allegations against Miller are serious and disturbing and shouldn't be forgotten. Despite all of that, people at DC Studios and Warner Bros. Discovery have been hyping this movie up for a while now. It sounds like they have a lot of confidence in it, so much so that they will screen it at CinemaCon 2023 in April, almost two months before its scheduled release date, according to Variety.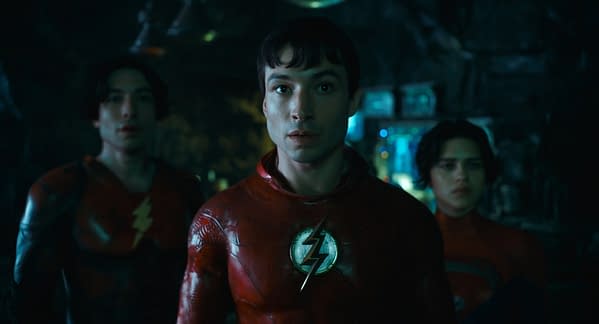 This isn't the first time that a major film has been screened at CinemaCon months before its release date. CinemaCon, the convention for theater owners and studios, happens in Las Vegas, usually in the early spring. Last year, they screened Top Gun: Maverick early for the audience, and the year before that [the convention took place in August due to COVID], they screened Ghostbusters: Afterlife. CinemaCon is a closed event, so only those registered can attend; so if you're looking for a way to get into the screening of The Flash, that likely isn't going to happen. We here at Bleeding Cool almost always attend CinemaCon.
The Flash: Summary, Cast List, Release Date
Warner Bros. Pictures presents The Flash, directed by Andy Muschietti (the IT films, Mama). Ezra Miller reprises their role as Barry Allen in the DC Super Hero's first-ever standalone feature film. Worlds collide in The Flash when Barry uses his superpowers to travel back in time in order to change the events of the past. But when his attempt to save his family inadvertently alters the future, Barry becomes trapped in a reality in which General Zod has returned, threatening annihilation, and there are no Super Heroes to turn to. That is unless Barry can coax a very different Batman out of retirement and rescue an imprisoned Kryptonian… albeit not the one he's looking for. Ultimately, to save the world that he is in and return to the future that he knows, Barry's only hope is to race for his life. But will making the ultimate sacrifice be enough to reset the universe?
The Flash ensemble also includes rising star Sasha Calle, Michael Shannon (Bullet Train, Batman v Superman: Dawn of Justice), Ron Livingston (Loudermilk, The Conjuring), Maribel Verdú (Elite, Y tu mamá también), Kiersey Clemons (Zack Snyder's Justice League, Sweetheart), Antje Traue (King of Ravens, Man of Steel) and Michael Keaton (Spider-Man: Homecoming, Batman). It will be released on June 16, 2023.