Posted in: Movies, TV | Tagged: alfred pennyworth, david mazouz, entertainment, gotham, sean pertwee, television
---
The Man Behind The Bat – Talking With Sean Pertwee About Gotham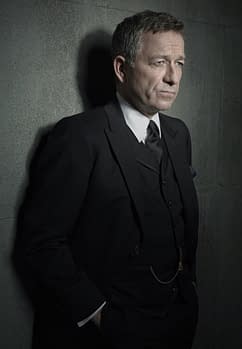 Last week I got to do a bunch of phone interviews in 24-hours. The one that got me a bit nervous was Sean Pertwee. He's one of those actors that makes whatever he's in much better. He brings a gravitas and intensity to a modernized version of Alfred Pennyworth in the Fox / Warner Bros series Gotham. And he's the son of the Third Doctor, Jon Pertwee. This is someone I'd happily grab a pint at the pub with and pick up the tab. But short of that, I was able to get on a shaky phone connection and ask the Gotham star a few questions about the season two and where season three is going.
DAN WICKLINE: You're playing an Alfred Pennyworth that is much more capable in a physical sense as compared to the character's origins. That has been more of a recent change to the character. How familiar were you with Alfred going in and did you know you were going to be playing a more modernized and action-based version?
SEAN PERTWEE: The thing was I got word that there was a pre-Batman thing and I got this incredibly well written speech about a guy in a pub. No one would tell me who it was for. I was flown to Los Angeles and met with Bruno Heller and Danny Cannnon and when I asked what character it was for, they told me Alfred and I was flabbergasted, as I think the audience was as well. It's because there was a time we had never seen Alfred at this point. We're not re-imagining the story of Batman, we're re-defining it, giving these characters a history.
Bruno and Danny asked why would this guy take the job and it became obvious, because he had just inherited the most valuable asset and most valuable produce of Thomas Waynes' life. Which is his most beautiful son, Master Bruce. Alfred blames himself when the Waynes are assassinated because he was supposed to protect them. Alfred was SAS as we now know and he blames himself. So their relationship has developed from there and people had never seen Alfred at this stage of his life. As young as he is there had to be a reason for him to be there and that's because Thomas Wayne trusts him so much. And that's why he inherited the parental role that he struggles with.
We know where Alfred ends up, but now we see how he effects Bruce's life as an enabler and instilling both the training and morality that we see later in Batman. And it's exciting to play the origins of a character that is so well known and loved. DW: Most of your scenes are with David Mazouz, what is your relationships with him off-screen?
SP: He's become like family. He comes over and visits on holiday with my sons and things like that. I love him like my own. He's an extraordinarily generous actor, deeply intelligent, and irritatingly brilliant actor. Fun to be around and we have, I hope, an incredible chemistry on screen. We know what each other are thinking and that's the point. We have a real genuine relationship and look out for each other.
DW: As the series has progressed, Alfred seems to be moving away from the parental role and more towards being a partner. Where do you see that flip taking place and how much of the parental role do you still see taking place?
SP: That's the interesting line, they don't have a normal relationship. At the end of season two Alfred told Bruce, "do what you're going to do, but tell me what you're doing." They've butt heads for so long that what has come back has come back stronger. Their relationship is something that can't be replicated. It's strong but dysfunctional and where most relationships for them don't work, there's does. He worries about what would happen to Bruce if he wasn't there. Alfred has never had the capacity to love and he has post-traumatic stress disorder as does the boy, that's what brings the two of them together. They need each other. Alfred learns as much from Master Bruce as Master Bruce learns from Alfred. It's a bizarre relationship but it's also a bizarre parental one as well. They will basically work to become the original dynamic duo. DW: We've only seen a bit of Alfred's past, with the introduction of his war-buddy Reggie. Would you like to see the show explore more of Alfred's SAS days?
SP: I'd like to, but the series is about going forward. So we may find out more about Alfred's past but only in context of moving the story forward.
DW: Where would you like to see Alfred go in season three?
SP: I'd like Master Bruce to listen to Alfred occasionally, obviously. I'd like to become more part of his life. At the end of season two, we're exposed to the Court of Owls and Bruce will learn that there is a very small portion of Gotham that is good and trustworthy. And with Lucius Foxx joining the good guys I'd like to see an adherence to the good guys and Alfred being more part of Bruce's life and his trust.
---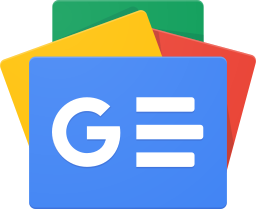 Stay up-to-date and support the site by following Bleeding Cool on Google News today!