The Old Guard: A Cautionary Tale in Immortality [REVIEW]
When it comes to modern action flicks, The Old Guard comes off well-rounded, but pedestrian. There's enough action to keep the audience engaged and enters enough doubt philosophically for those who vie for immortality. If it were another studio than a streamer such as Netflix, it's doubtful the film ever sees a theatrical release even with the star power of Charlize Theron. In what I can best describe as Highlander (1986) Meets Wanted (2008), Nile (Kiki Layne), a US soldier stationed in Afghanistan, makes the fatal mistake of underestimating her target when she shoots him down. While checking up on the body, he takes a blade and slices her throat in a final act of defiance before succumbing to his wounds. When she wakes up, she's amazed to find fatal injury disappear and her unit frightened upon the discovery of her new-founded Wolverine powers after being declared dead when her unit returned to base.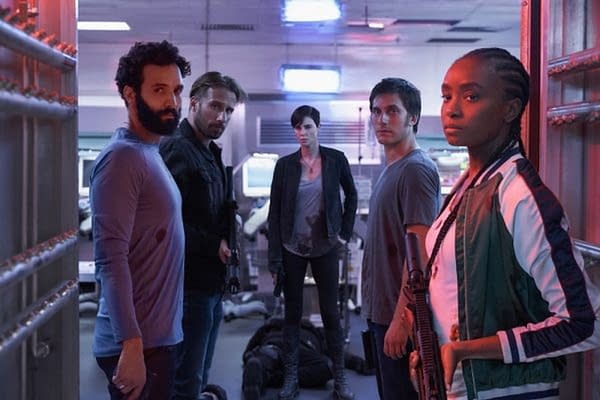 Slowly accepting her new fate as an immortal, guiding her on her journey is Andy (Theron), an immortal leads a band of mercenaries who are just like her. In The Old Guard universe, there are rules and conditions which the immortals live by. First, they do have incredible regenerative powers like Wolverine of the X-Men does. After the initial injuries land, death takes hold; the body will start its healing process shortly afterward, where bullets get pushed out of wounds, cuts, broken bones, and dislocated joined reset. One of the things not addressed is if dismemberment is involved if limbs grow back like jellyfish. The abilities often trigger reliably for Andy as well as her crew Booker (Matthias Schoenaerts), Joe (Marwan Kenzari), and Nicky (Luca Marinelli) until one day, it doesn't. It's not really explained why other than whatever causes their miraculous healing, just decides to turn off when it comes time to die finally.
Based on the comic of the same name by Greg Rucka (who also penned the screenplay) and illustrator Leandro Fernandez, takes the premise of immortality and asks how humanity would deal with people with such gifts. Like every other comic about humans with unique abilities, they're often ostracized as you'll find with numerous flashbacks to the centuries Andy lived. The plot from how the immortals lived in previous centuries, their jadedness toward the mortal world and mad scientist ambitions are mostly predictable, but fun nonetheless. While it's a great film to lean on Theron's on-screen presence, it feels like it's just playing it safe too often given the restraint, a lesser actress could pull it off all the same. She's done far superior action work, especially in Atomic Blonde (2017) and Mad Max: Fury Road (2015).
I hope Gina-Prince Bythewood does more action because it's not bad; she handles the material with respect. In addition to her television work, she also directed an episode of the "gone-too-soon" Marvel series Cloak & Dagger. Layne does an admirable job as the straight person accepting her new fate as an immortal. Think James McAvoy in Wanted with a far better set of initial skills given her military background. Harry Melling does his best impression of Riz Ahmed from Venom (2018) as Merrick, the scientist trying to find a way to exploit immortals, but far more meek than Ahmed. The only other performance of note is Chiwetel Ejiofor as Copley, who has his own personal reasons in engaging the immortals than his employer. Like Theron, Ejiofor is capable of far greater things than the role gives him. The Old Guard is fine for what it is and doesn't really warrant more than the one-and-done viewing. The major stars involved like Theron and Ejiofor have done far more superior work. The film is currently available to stream on Netflix.