 It's been a motion comic with all the parts hilariously acted out by one dude. It's been a major motion picture that controversially did not feature a giant alien squid monster. Announced today by the capable PR team at Warner Bros (because there's nothing else going on this weekend that will dominate the news cycle), Watchmen is getting another adaptation. This time, it's an R-rated animated film, which comes just a few days after Warner Bros refused to rule out making more R-Rated DC animated films. Watchmen was the seminal 1986 comic work by Alan Moore and Dave Gibbons, not to be confused with Alan Moore's fish-semenal comic work, Avatar Press's own Neonomicon. Hoooorrrrrdd!
Speaking of Alan Moore and Avatar Press…
Hey, where did that video come from?!
Comic Book Resources had the news from a survey sent out by Warner Bros, which calls the film "a faithful adaptation of the Watchmen graphic novel executed in an animation style that mirrors the source material." Not as "faithful" as letting Alan Moore and Dave Gibbons have the rights to Watchmen, but as close to perfect as you can get besides that, we assume.
Here's the description from the Warner Bros survey: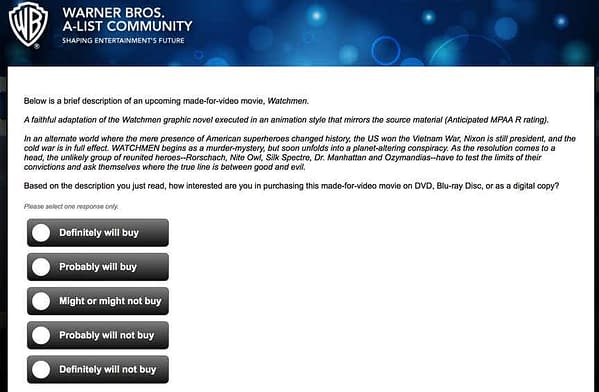 So what do you think? Definitely will buy? Might or might not buy? Cast hex at computer monitor (Alan Moore option)? Let us know in the comments.
Enjoyed this article? Share it!