"Back to the Future": Stars Christopher Lloyd, Michael J. Fox Reunite for Charity
One of the fondest franchises yet to be remade is Back to the Future. Christopher Lloyd posted a picture with his co-star Michael J. Fox on Instagram. Lloyd appeared to support a charity poker tournament to benefit the Michael J. Fox Foundation, which funds research to combat Parkinson's disease.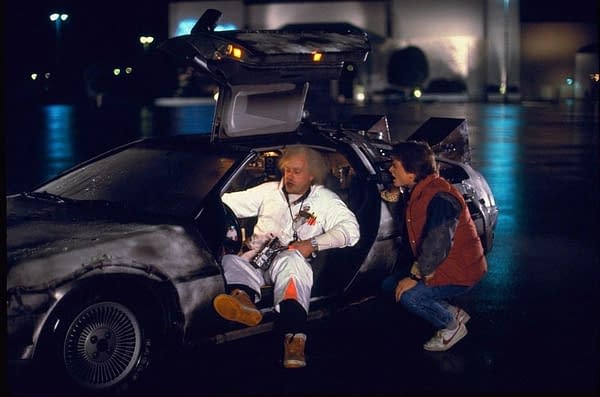 "Back to the Future" Synopsis
Directed by Robert Zemeckis and co-written by Bob Gale, the story follows Marty McFly (Fox) who travels back in time to the year 1955 and accidentally gets between his parents from falling in love. With the help of Dr. Emmett Brown (Lloyd), who invented the time machine from a DeLorean in 1985, Marty must undo the damage and get help from Doc's 1955 counterpart to get back home. The franchise spawned two sequels Back to the Future Part II (1989) and Part III (1990) taking them as far ahead as 2015 and as far back as 1885.
The films grossed a combined $962 million globally at the box office. Though the second and third films weren't as well-received, the trilogy developed quite a following with an animated series, video games, comic books, and stage musical. The Adult Swim series Rick and Morty and its two main characters are loosely based on Doc and Marty. Musical contributions from Huey Lewis and the News, ZZ Top, and Alan Silvestri's score certainly helped solidify its pop culture status.
Lloyd and Fox reunited lending their voices for the Telltale videogame series adaptation of the franchise. The two also appeared in character in a parody bit on Jimmy Kimmel Live!. The 1985 film won an Academy Award for Best Effects, Sound Effects Editing and nominated three times. Most of the cast occasionally reunite. Back to the Future also starred Lea Thompson, Crispin Glover, and Tom Wilson.
Following a Deep Fake video of Tom Holland and Robert Downey, Jr appearing in the Fox and Lloyd roles, the Spider-Man actor said he was approached about a possible remake in a BBC radio interview. Gale and Zemeckis are adamant a remake will never happen.