US Army Uses X-Men To Recruit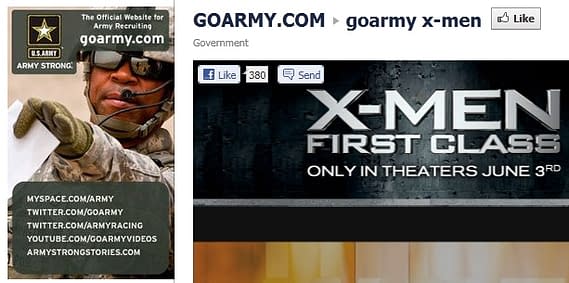 In X-Men: First Class, the US armed forces are portrayed as loyal, dedicated but ultimately mindless autonomatons, doing the bidding of politicians no matter what the consequences, taking the world to the brink of nuclear war, and attacking mutants. And at one point there is a comparison between their actions and the Nazi soldier excuse "I was only following orders". There is a rather heavy handed scene which hammers this home.
Which makes this the perfect film to use as a US Army recruiting tool, apparently. It is the first film sponsored by the US Army.
On their Facebook page, there's trailers and clips, but more importantly, this ad that compares joining the army to joining the X-Men.
"Heroes. Ordinary people discover they can do extraordinary things. With unique talents and strengths, they stand together as an elite class. It's more than a uniform. It's the chance to be part of something bigger than you ever imagined. Try it on at facebook dot com slash go army. With exclusive content from X-Men First Class in theaters June 3rd. There's strong and then there's army strong."
It's followed by "exclusive content" and actor commentary showing training scenes in the movie, with heavy handed lines about "creating an army".
It's all a bit weird…