Ryan Reynolds is having such a hell of a time promoting his new film Pokémon: Detective Pikachu, he decided to upload on YouTube.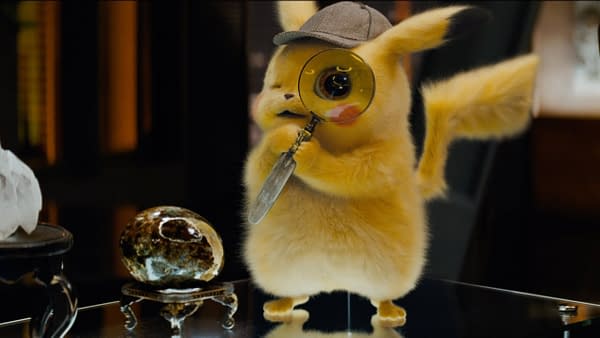 Reynolds "directed" attention to DetPikachuMovie and Warner Bros. Pictures to the clip via Twitter.
Um…. Attn @DetPikachuMovie @warnerbros https://t.co/UF7qYtKOYV

— Ryan Reynolds (@VancityReynolds) May 7, 2019
The video, titled "POKÉMON Detective Pikachu – Full Movie, shows the first 36 seconds of the film with studio credits and a descending shot of Ryme City down to focus on Tim Goodman (Justice Smith). As he turns towards the camera, it switches to Pikachu (Reynolds) doing a looped dance for the remainder of the video.
While Pikachu can bust some serious moves, it's brilliant marketing at the curious and those who took the link at face value.
In Ryme City, a metropolis populated between the bonds of humans and Pokémon alike, a 21-year-old former Pokémon trainer named Tim Goodman comes into contact with a talking Pikachu that once belonged to his father, Harry Goodman (Paul Kitson), who went missing after an accident. Tim and the talking Pikachu, who calls himself "Detective Pikachu", investigate to find his whereabouts with the help of a reporter, Lucy Stevens (Kathryn Newton) and her Psyduck, until they come across something that endangers the Pokémon world.
Directed by Rob Letterman, the film stars Ryan Reynolds, Justice Smith, Kathryn Newton, Suki Waterhouse, Omar Chaparro, Chris Geere, Ken Watanabe, and Bill Nighy.
Pokémon: Detective Pikachu comes to theaters May 10th. You can check out the trailer below once you're done watching Pikachu boogie.
Enjoyed this article? Share it!