Where's My Biopic? Actress Anna May Wong
When it comes to pioneers of Hollywood, one of the most overlooked until recently was Anna May Wong. She earned the distinction of being the first Chinese American Hollywood film star. Making the best of the opportunities the business presented her, she took the roles and performed to critical acclaim.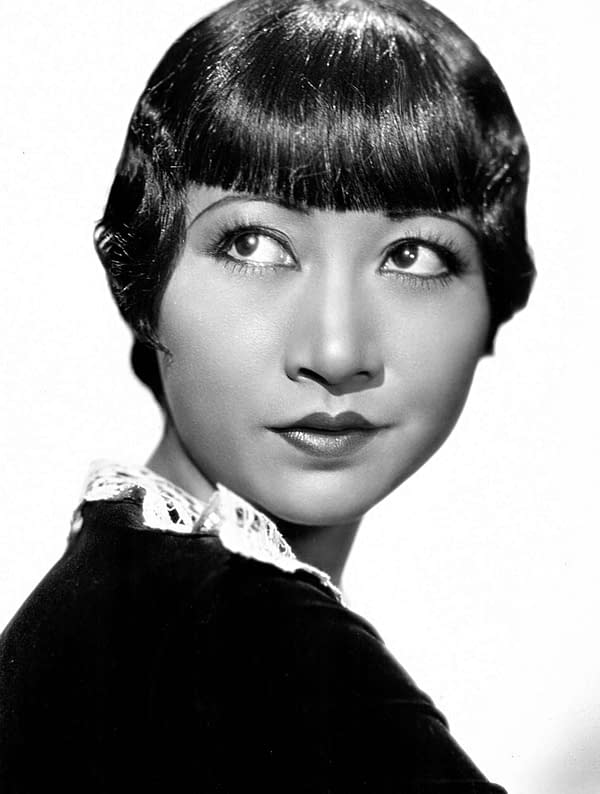 The Cultural Struggle for Acceptance
As a medium with global aspirations, the irony is Hollywood stood firm on its racist policies placing minorities in predominantly stereotypical roles. Often typecasting Wong as a seductress or dragon lady, studios often passed her over for leading roles. The industry enforced strict policies against interracial coupling. With most of the male leading roles going to Caucasians, directors eliminated any chance ofromantic activity if Wong played the leading female or they regulated her to a supporting role. If the role had to be Asian, the romantic female lead went to a Caucasian in yellowface.
Whether if it's a leading role in yellowface or a Caucasian actor in an ethnically-defined role in general, the practice sadly still goes on today. Stereotypes are notorious for having a lingering effect especially for current and future generations of those depicted. This is particularly harmful when a group of people are seldom seen in normal settings. This is why a story like Wong's is important to tell. She persevered as well as a person in her position can. Audiences see the wonderful art she brought, but may not be aware of the pain she endured.
Star Recognition
Until recent years, most American audiences were ignorant Asian-American contributions in cinema outside of popular martial artists like Bruce Lee or Jackie Chan. How many people outside of cinema buffs followed the career of James Shigeta? How many know of his career outside his role as Joseph Takagi, who was infamously executed from Hans Gruber, in Die Hard? More audiences need to be made aware of actors like Shigeta, Sessue Hayakawa, and Wong. Telling their stories on the big screen is an ideal way to inform them.
Achieving a Dream
Wong, born Wong Liu Tsong in 1905, set her ambitions early in life with her cinema fascination. In her high school years, she hung around sets begging for opportunities. After a few stints as an extra, Wong took bigger roles initially in the silent era earning high praise for her work in The Toll of the Sea (1924). Her other notable early roles include The Thief of Bagdad (1924) and Peter Pan (1924).
Despite praise in Wong's work, she often found herself in more stereotypical roles. Jaded, she decided to move to Europe. Able to take on less constricting roles, she became fluent in German and French earning praise internationally for roles in Song (1928) and Piccadilly (1929). With renewed interest, Hollywood lured her back with promises of better opportunities in the 1930. She used her fame toward Chinese advocacy during World War II. She went as far as performing in a few anti-Japanese propaganda war films.
Predictably, Hollywood soured on her again following their broken promises continuing to be passed over for leading roles in favor of Caucasian actresses in yellowface. She went back to Europe to resume her career while having one foot back at Hollywood's door.
Final Years
With 63 credits to Wong's name, she kept busy whenever she could on film, on the stage and late in life, television. She found herself a pariah of two worlds: America and China. Americans never accepted her as a leading actress for her ethnicity. Chinese thought of her as too American and a sellout for reinforcing negative stereotypes. Dealing with rejection on both fronts, she turned to alcoholism taking a toll on her health until her passing in 1961 from a heart attack. She was to costar with Shigeta in the Flower Drum Song (1961). Nancy Kwan landed the role of Linda Low in place of Wong.
The tragedy of Wong wasn't just her alcoholism, but she never gained the acceptance she wanted in an industry she adored so much. Loyalty to the film industry didn't reward her with bigger and better roles. Typecasting from the West had the unintended effect of ostracizing her from her own people the East. Appearing in low budget films afforded her the freedom of creativity in more dynamic roles.
Wong's Legacy
Over ten years since her death, Wong received posthumous recognition in celebration of her contributions to the arts. Plays, poems, and awards became dedicated in her name, but Hollywood can do better. She suffered greatly and deserved better. The relationships she built in the industry included those like director Tod Browning (Dracula), Douglas Fairbanks, and Marlene Dietrich meant she gained recognition from some of her peers. On top of her acting accomplishments, Wong became a fashion icon.
An Opportunity for US-China Crossover Appeal
Despite visibility issues that continues into modern contemporary cinema, Wong took what she could get and left a lasting legacy in opportunities for other Asian actors. She deserves her own biopic, because her struggles are empathetic in nature. Constance Wu, Ran Wei, JuJu Chan, and Lana Condor are a few names, who could possibly play her in a biopic. The opportunity for a biopic can easily secure financing from classic cinema fans in US and China.
An Anna May Wong biopic could attract Oscar buzz, plus it reintroduce domestic and international fans the life of this remarkable actor. China would have another opportunity to embrace one of their own many in the current generation may not be aware. The fact she also thrived in Europe could also generate interest there.
Who do you think can play her? Who would be the perfect director?