WWE has claimed at a Television Critics Association event that they will not include Donald Trump in their 25th-anniversary show, or in any WWE programming because the company is non-partisan. Punctuality-obsessed Hollywood gossip blog Deadline reports from the panel, where the company debuted a sizzle reel for the show that did not include the pro wrestling president.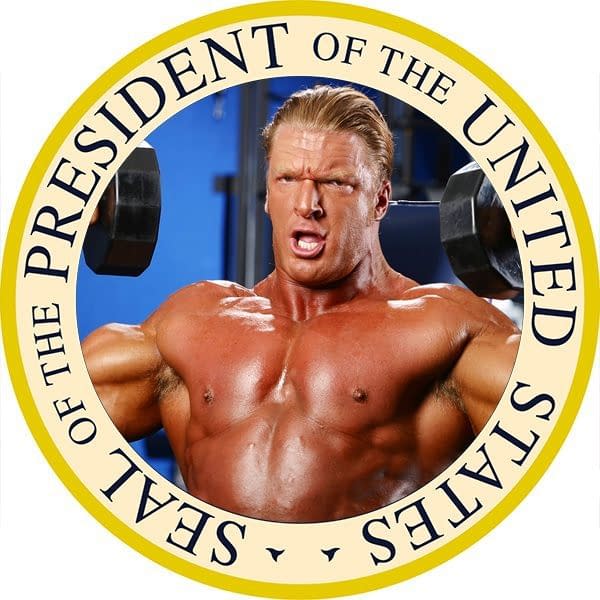 "WWE is non-partisan," said Stephanie McMahon after Triple H mentioned other "celebrities" who weren't included in the footage in an attempt to shrug off questions about the lack of the grappler-in-chief. "We are the greatest combination of every culture, gender, socio-economic background, [etc.]"
When reporters at the panel pushed the executive couple on the fact that former CEO Linda McMahon currently serves as the head of Trump's Small Business Administration, Stephanie McMahon reiterated that WWE "made a decision" not to use Trump in any WWE programming, saying "We made a strategic decision to not put forth any type of partisan politics at all."
They denied Trump three times. Does that make him Jesus?
Not mentioned at the event, it seems, is the long business association between Trump and WWE going back to WrestleMania 4 and 5, which were hosted at Trump's Atlantic City venue. McMahon also participated in the main event of WrestleMania 23, has been a fictional on-screen owner of WWE, and is a member of the WWE Hall-of-Fame. Also not mentioned at the event were the numerous donations totaling millions of dollars given to Trump's campaign by the McMahons, nor the photo ops the entire McMahon family posed for in the Oval Office.
"Stone Cold" Steve Austin has stunned 46 percent of the people in this photo, including the president. pic.twitter.com/GKkz0cjB5d

— dhm (@dhm) February 15, 2017
Additionally, Vince McMahon is rumored to be exploring rebooting the failed XFL football league, which many expect to be designed to appeal to conservative football fans angered by the NFL's kneeling protests, a favorite bugaboo of the President.
In a December article promoting his new book, Trumpmania: Vince McMahon, WWE, and the Making of America's 45th President, author Lavie Margolin recounted a November, 2000 edition of Smackdown in which WWE, through commentator Jerry "The King" Lawler, openly advocated for George Bush on election night, making the case that WWE may have even swayed the extremely close election decided by controversy in Florida.
In a contrived exchange, announcer Jim Ross asks color commentator Jerry Lawler who he is going to vote for. It seems like Lawler hesitated a moment and it is hard to hear him. Ross asks him again who he will be voting for. Lawler's confidence now grows and says he is not going to be voting for Gore-Lieberman as they could be card carrying members of the Right to Censor because they love to censor things (naturally). Ross reminds viewers that "The King's" views are his own, but qualifies to say that it does not mean he is voting for Gore-Lieberman, either. Lawler than states he is voting for Bush and reminds viewers they are in Texas (Houston).
WWE's announcers are famously tightly controlled by Vince McMahon himself. The company, however, is non-partisan. That's important to remember.
Enjoyed this article? Share it!