The Alienist Season 1, Episode 1: Thoughts on the Series Premiere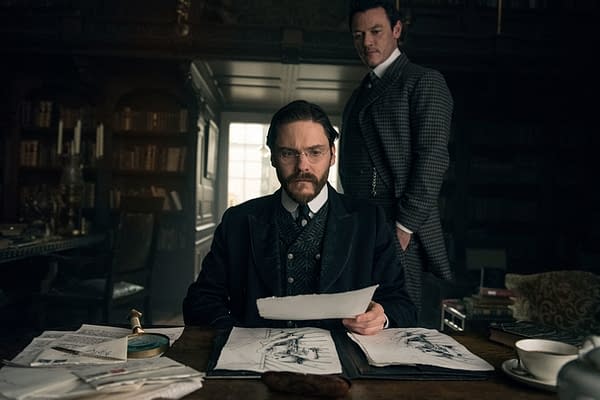 Welcome to The Weekly Static's takeaways from TNT's series adaptation of authors Caleb Carr's 1994 historical thriller The Alienist. With "The Boy on the Bridge" set to premiere Monday night, we're here with out thoughts on the first episode and to let you know just how good of a job the show's creative did (or didn't do) at setting up the storyline and introducing us to our protagonists: Dr. Laszlo Kreizler (Daniel Brühl), John Moore (Luke Evans) and Sara Howard (Dakota Fanning).
Now I'm not sure if this needs to be said but – moving forward – you need to be aware of this: Less of a "formal review" and more of a "revap"-type (review/recap) thing, we're covering the nitty and the gritty of the episode, along with some of my thoughts on what worked and what should've be left untouched by human hands. If you're not familiar with the novel, no need to worry: I'll be discussing the series as a show and not as something to compare to the novel. If you know what's coming, then spoilers probably aren't going to be a big deal for you; but there may be some discussion (translation: rants) of either subtle changes or drastic differences that you might want to avoid until you see them for yourself.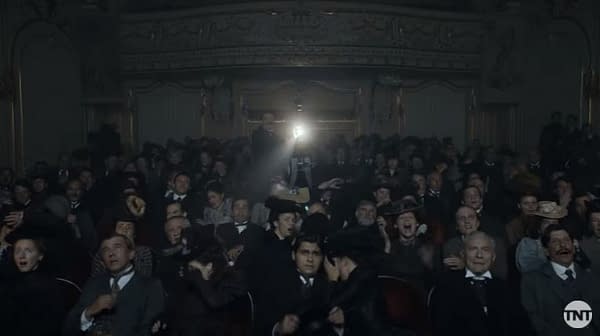 Here's a look at the official trailer for The Alienist, as well as a synopsis of the series premiere:
Episode 101: "The Boy on the Bridge" – New York City. 1896. The heart of America's Gilded Age. When a young boy prostitute is found butchered on the unfinished Williamsburg Bridge, an alienist named Laszlo Kreizler (Daniel Brühl), a newspaper illustrator by the name of John Moore, (Luke Evans), a secretary, Sara Howard (Dakota Fanning) and a police commissioner named Theodore Roosevelt (Brian Geraghty) begin an investigation outside the law to find the serial killer.

Here's a sneak preview of next week's second episode of TNT's The Alienist, 'A Fruitful Partnership':
Episode 102: "A Fruitful Partnership" – The investigation heats up as Sara (Dakota Fanning) gets her hands on a clue and Kreizler (Daniel Brühl) tries to connect the evidence left behind by the serial killer. Tensions rise within the police department. Kreizler takes Moore (Luke Evans), Sara, Marcus (Douglas Smith) and Lucius (Matthew Shear) to Delmonico's in New York and informs them they are going to be working together as a team to catch the killer.