[Grammys] What You Didn't Get to See Sunday Night
From Dave Chappelle assuming the role of unofficial emcee with just one line ("I just wanted to remind the audience that the only thing more frightening than watching a black man be honest in America is being an honest black man in America,") and Bruno Mars and Cardi B bringing us back to the colorful days of the early '90s, the 60th Annual Grammy Awards definitely weren't lacking in memorable moments. But while audiences saw Kesha's #MeToo musical moment with Cyndi Lauper, Camila Cabello, Julia Michaels, Andra Day, Bebe Rexha and Resistance Revival Chorus of Women; and the Fire and Fury Grammy skit, it's usually what happens off-stage and off-camera that proves just as interesting.
So with the Grammys now written up in the history books, Variety is giving readers a look behind the curtain at some of the more interesting things you didn't get to see or hear. Here are some of the highlights:
● Lorde standing up during a commercial break, giving them a better view of the small white rectangle on the back of her gown that featured a quote from Jenny Holzer's Inflammatory Essays that she wore in support of the #MeToo movement: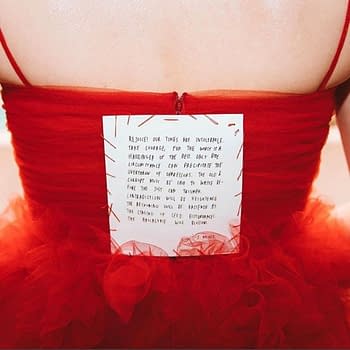 "Rejoice! Our times are intolerable. Take coverage for the worst is a harbinger of the best. Only dire circumstance can precipitate the overthrow of oppressors. The old and corrupt must be laid to waste before the just can triumph. Contradiction will be heightened. The reckoning will be hastened by the staging of seed disturbances. The apocalypse will blossom"
● When the audience realized that Grammys host James Corden was preparing to introduce Pink's performance, people began straining their necks towards the ceiling under the assumption that she would be airborne. She wasn't.
● Before the start of the show, Grammys executive producer Ken Ehrlich spoke of the proud history of New York City's Madison Square Garden and its proud history of famous fights. But it was his "…an epic battle between former NYC mayor Rudy Giuliani and former Recording Academy president Mike Greene…" line that moved the conversation from cordial to slightly snarky. Giuliani and Greene had a very public spat during the 1998 Grammys that many believe led to the Grammys moving to Los Angeles for 18 of the subsequent 20 years.