Stephen King Wasn't Involved At All In 'It' Reboot, Didn't Even Get Any Swag In the time it takes for you to read this sentence, Stephen King will have already written two novels, a screenplay and three short stories. OK…maybe that's a bit of an exaggeration, but it's an understandable assumption when you look at the lineup of adaptations already in the works. So here we go:
The Dark Tower is currently in theaters and The Mist is currently on Spike; It open in theaters next month, and Netflix has Gerald's Game and 1922 dropping later in 2017. Did I mention that he's also releasing a book he co-wrote with his son Owen, Sleeping Beauties? Or the new series Castle Rock, that's going to tie together a number of King's works in a "shared universe" series? Or that Doctor Sleep and a Pet Sematary remake are also being considered? Guess it's good to be the King. King is currently promoting the series Mr. Mercedes, based on his book and which is set to premiere on Wednesday, August 9th on DirecTV's Audience Network. Described by King as his first "hard-boiled detective novel," Mr. Mercedes was the first of a trilogy of novels (with Finders Keepers in 2015 and End of Watch in 2016) and introduced us to retired police detective Bill Hodges as he races against time and his own mortality to finally put a stop to the psychopathic machinations of serial killer Brady "Mr. Mercedes" Hartsfield once and for all.
King sat down to speak with Variety on a number of topics, from the best ways to adapt his work and what work of his he'd like to see get adapted next to what keeps him awake at night and how much (or little) he was involved in It.
Here are some of the highlights: When it comes to adapting his work, King thinks it's best if you try to to reinvent the wheel you just just bought:
"I think it's good when they stick as close to the story as they can because that's what they bought. You don't want to think they just bought the launching pad, but they bought the rocket, too. I'm a workhorse myself, and I like people who work hard. I like people who are creative, who are visual, and I like people who work hard and come to it with a professional attitude and have an artistic flair."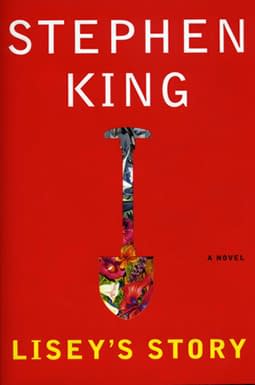 When asked what work of his he'd like to see on screen next, we can thank Hulu's The Handmaid's Tale and the overall change in television for helping with King's response:
"Oh, man. Lisey's Story, I guess. Lisey's Story is my favorite of the books and I would love to see that done, especially now that there's a kind of openness on the streaming services on TV and even the cable networks. There's more freedom to do stuff now and when you do a movie from a book, there's this thing that I call the sitting on a suitcase syndrome. That is where you try to pack in all the clothes at once and the suitcase won't close, so you just sit on it until it latches. And sometimes when it comes down on the baggage carousel, it busts open and your dirty laundry is everywhere. So it's tough to take a book that is fully textured and has all the wheels turning and do it in two hours and 10 minutes. But as a TV show you have 10 hours, there's always the possibility of doing something like The Handmaid's Tale, which is extraordinary." Fans of the author can take a deep breathe and relax: when it comes to writing, what King considers "slowing down" would still be full-time work for most:
"There's more time, but I'm older now I don't have quite the stamina I used to have but I still work maybe three, four hours a day, seven days a week when I'm working on something. And when I'm not working on something, I don't know what to do with myself. I just sort of follow my wife around the house until she says, 'Don't you have something to do?'" Exactly how involved was King in the production of It? Umm…
"I wasn't involved at all. I wished them well. Geez, I don't even think they sent me any swag from that one! But maybe that's a good thing. I've seen it, it's fabulous." You'd expect that someone who makes their living scaring the living crap out of people would've developed some pretty thick and cynical "armor" around them when it comes to the scary stuff. When it comes to King, your expectation would be painfully wrong:
"Oh God, yes. Air travel is a big one with me because I feel like I'm not in control. I'm close to 70 now, so I'm worried about basically having the cheese slide off my cracker — Alzheimer's, dementia, stuff like that. I don't like bugs, I don't like bats, I don't like things that creep and crawl. With the exception of snakes, somehow they don't really turn my dials. But I'm also afraid of people like Brady Hartsfield, they're out there. And it crosses my mind every time I do a public event. You think about somebody like Mark David Chapman, and you think maybe somebody's got a knife out for you. But that's part of life."
Audience has this to say about their new series:
"A demented serial killer taunts a retired police detective with a series of lurid letters and emails, forcing the ex-cop to undertake a private, and potentially felonious, crusade to bring the killer to justice before he can strike again. Based on the bestselling novel by Stephen King. Directed by Jack Bender (Lost, Game of Thrones) and adapted for television by David E. Kelley. All three serve as Executive Producers."
Mr Mercedes stars Brendan Gleeson (In Bruges) as Detective Bill Hodges; Harry Treadaway (Penny Dreadful) as Brady Hartsfield; Jharrel Jerome (Moonlight) as Jerome Robinson; Mary-Louise Parker (Weeds) as Janey Patterson; Justine Lupe(Frances Ha) as Holly Gibney; Scott Lawrence (Legion) as Detective Peter Dixon; Kelly Lynch (The L Word) as Deborah Hartsfield; Ann Cusack (Better Call Saul) as Olivia Trelawney; Robert Stanton (True Story) as Anthony "Robi" Frobisher; Holland Taylor (The Practice) as Ida Silver; and Breeda Wool (UnREAL) as Lou Linklater.