SDCC '15: How to Break Into TV Animation As A Story Editor Or Head Writer
Neo Edmund (Red Riding Werewolf Huntress, Kaijudo Clash of the Duel Masters) hosted a panel Thursday afternoon titled The TV Animation Story Editors/Head Writers panel. His panelists included Craig Miller (Transformers, Curious George), Eugene Son (Ultimate Spider-Man, Marvel's Avengers Assemble), Charlotte Fullerton (Ben 10 Omniverse, My Little Pony Friendship is Magic), Jim Krieg (Green Lantern: The Animated Series, Spooksville), and Andrew Robinson (Kaijudo Clash of the Duel Masters, Blizzard Entertainment senior writer) and for about an hour they provided tips and pearls of wisdom for breaking into television animation as story editors and head writers. Edmund asked his panelists to walk him through what a new person should do to get started. Son said every person's story is going to be different, however there are important dos and don'ts to the business. Miller said plainly that no one is going to hire you because you have a nice smile. You need writing samples and yes, it is who you know. Miller said that if he has two writing samples, he will read the sample of the person he knows first. If he has time, he'll read the other the sample too. Krieg said he will go on the recommendation of others; he doesn't have time to read specs.
What's your opening line when networking? If you start out by telling a prospect all the things wrong with their show and how you can fix everything if you are hired, then that approach is not going to get you the job. You may be right, but it is a bad first impression. Fullerton added that you don't want to be argumentative or difficult. Miller was blunt: "don't be an asshole; don't be a jerk." Fullerton advised to stand out in every positive way to a prospect.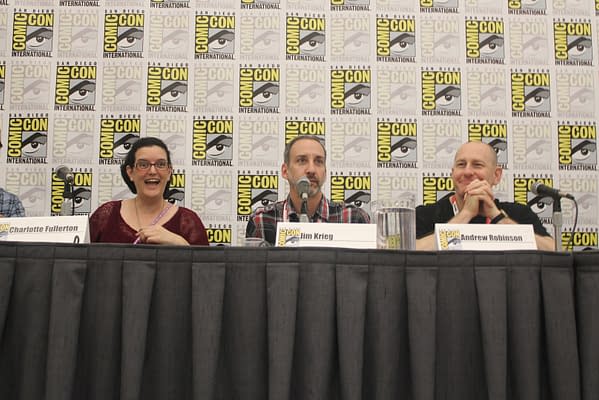 Son suggested to those interested in this career to find like-minded people with the same goals as you. Develop a support system and work your way up in the industry together. This kind of networking can lead to being offered a position by someone you know from that support group.
Fullerton recommended applying for the writing scholarships. They provide a great learning experience and opportunities to make a good impression. In addition, if you are doing a writing group with a mentor, Fullerton advises to show up regularly and do the writing – show you're interested and committed.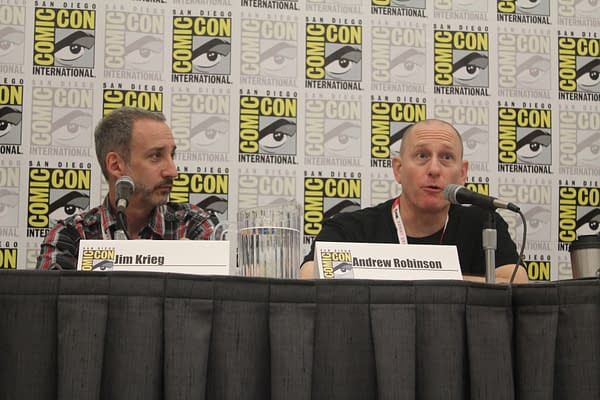 An audience member asked about having to live in Southern California to secure a position. Miller said that he would rather work with someone in closer proximity than further away. And if you live further away, you need to be flexible to travel to the office occasionally. Other panelists concurred.
This is big: "know your genre," said Robinson. "Know the aesthetics of what you want to write." There is a lot of competition out there, so you need to be a strong writer in your genre of interest so you'll stand out from the crowd. Fullerton said to use the internet to help you stand out. Krieg said to use Twitter because it can build trust and a level of comfort for the prospect to take a chance on you. Son advised that it may take awhile to cultivate opportunities, so you have to be patient.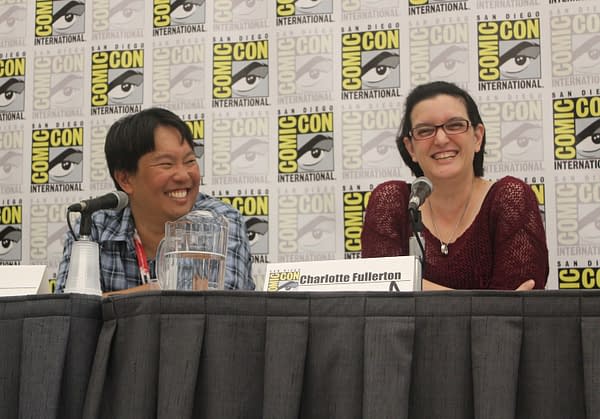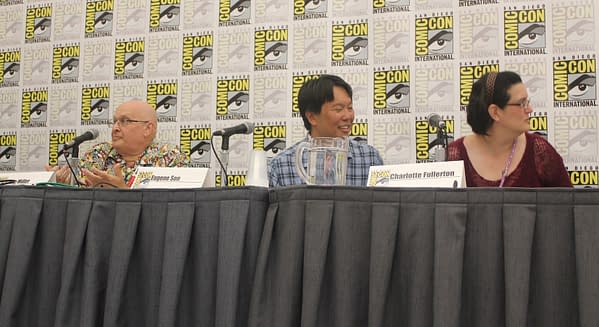 Keep your specs up-to-date and do more than one, especially if you are interested in multiple genres. When a head writer does read your writing sample, you want it to be the best possible sample they are reading since they likely don't have a lot of time.
As the panel was coming to a close, one of the last questions the panelists fielded was about the benefit of being a writer's assistant as a path for breaking in. Son said that occasionally being an assistant does lead to jobs, but the television animation industry doesn't usually have writing assistants.
Event photos were taken by Michele Brittany.
Michele Brittany is an independent popular culture scholar and semi-professional photographer and editor of James Bond and Popular Culture: Essays on the Influence of the Fictional Superspy (McFarland & Company) as well as the forthcoming book Essays on Space Horror in Films, 1950s – 2000s. Read her reviews and analysis on the spy/espionage and space horror genres via her blogs at Spyfi & Superspies and Space Horror Films. Follow Michele on Twitter: @mcbrittany2014.