Even though it was neither a critical or financial success when it was released in 2007, the first Ghost Rider film starring Nicolas Cage has always been a guilty pleasure for me.  The story nails the true spirit of the Spirit of Vengeance — and the history behind it — much better than is generally understood.  While most believe that the 1948 song Riders in the Sky: A Cowboy Legend provides the genesis of the character, perhaps influenced by European myths of the Wild Hunt, the true roots of the Spirit of Vengeance can be firmly traced to the American West.
One part of the inspiration for this tale is can be attributed to a legend surrounding Texas Ranger and Confederate soldier Creed Taylor. The story goes that he and others had a skirmish with horse thieves, and after killing one of their band, beheaded him and sent his corpse off into the night tied to his horse, as a warning to other bandits.
But most of all, the Spirit of Vengeance is also likely inspired by the terrible exploits of Felipe Espinosa, who tortured and killed 32 people in Colorado in 1863, and was ultimately killed and by legendary tracker Tom Tobin.
Espinosa's legend grew to include a night-riding spectral horseman over time.
Further, I think it's likely that these two legends and perhaps one other lesser known one that spun out of the Mexican-American War blended together into a truly American icon of horror — the Phantom Rider characters that can be seen throughout dime novels and pulps in subsequent decades, and beyond that, the various incarnations of the Ghost Rider character through the next century and even up to the present day version.
Another telling of the Creed Taylor incident has the rider keeping his head, and becoming a sort of cloaked, spectral figure with glowing eyes, and still others where the horseman becomes a protector rather than a warning.
As for the Espinosa part of it, I'll let Tobin explain. Thinking back on Espinosa, which clearly troubled him his entire life, Tobin said:
"It occurs to me that the question is not whether a choice exists between bad and good, but whether certain men are even aware of the difference. At what point, I wonder, does it stop being revenge?"
That would be an extremely accurate commentary on how Ghost Rider is portrayed in comics and film to this day.
The true history behind Ghost Rider makes the character an important part of the American pop culture landscape — and available this week at Comic Connect, the Ghost Rider #1 CGC 9.4 from the collection of the actor who would go on to portray the character in film is a unique artifact on that landscape.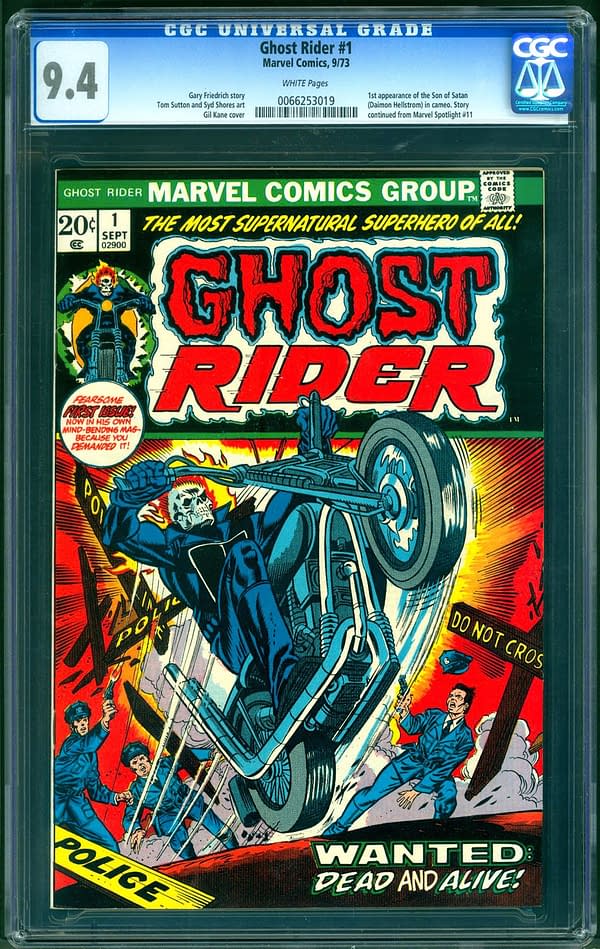 Enjoyed this article? Share it!