1 Female Writer out of 12: Variety's A Night in the Writers' Room Event
It appears that Variety's A Night in the Writers' Room event happening on June 14th has one lone female tv series writer out of the gathered 12. I thought we were getting better about this, Hollywood folks.
The annual event will mix writers from both drama and comedy genres in a discussion about their processes and the series they work on. The lack of female colleagues being included isn't a new thing for the event as the April drama evening had no women.
On average though, there are at least two women in attendance at each night.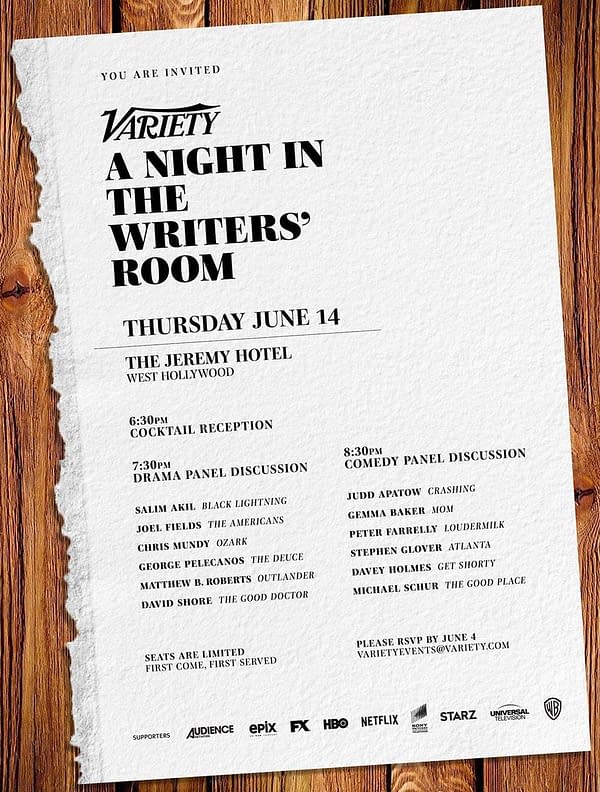 So what gives?
Maybe, perhaps, there weren't any female television writers available that night. It happens, and sometimes instead of admitting poor planning, you end up with a 11-1 score like the June 14th event. I've had it happen enough times now in booking guests for conventions, where through no fault of the event, no one is available due to work commitments, etc.
That said, my attention was drawn to this particular thing by tv writer and producer Amy Berg, who tweeted the above image along with some strongly worded hashtags.
Amy is currently the EP on STARZ's Counterpart and is no stranger to this type of event. One would hope some attention drawn to this may change the lineup for the next A Night in the Writers' Room event.
**UPDATE**
The official Variety twitter account has since tweeted this 'apology', saying:
On behalf of Variety, we apologize for the egregious oversight regarding the lack of female writers participating in our upcoming A Night in the Writers' Room event. We hear you loud and clear, and are currently working on rectifying our mistake.