One upon a time, this was referred to as CSI Ankh Morpork. Bleeding Cool first reported on the news back in 2011 that BBC Studios was working on a Discworld TV Series based on the Guards of the fictional city Ankh-Morpork, created by the late Sir Terry Pratchett. Seven-and-a-half years later, it has finally been greenlit by BBC America.
The Watch will be an eight-part hour-long TV series by BBC Studios for BBC America and is described as a 'punk rock thriller' inspired by the legendary City Watch subset of Discworld novels.'
In the books, which look at a medieval-to-industrialised-Victorian city inspired by London, Paris, New York and Chicago, The Watch are the guards who keep the peace, or at least keep to down to a manageable murmur' in Ankh-Morpork, a diverse city of humans, dwarves, vampires, werewolves and golem.
Members include Commander Sir Samuel Vimes, Captain Carrot Ironfoundersson, Captain Angua von Überwald, Sergeant Fred Colon, Corporal Nobby Nobbs, Sergeant Detritus, Sergeant Cheery Littlebottom, Constable Reginald Shoe, Lance-Constable Salacia "Sally" von Humpeding, Constable Dorfl, Constable Visit-the-Infidel/Ungodly-with-Explanatory-Pamphlets, Inspector A E Pessimal, Constable Igor, Constable Downspout and Corporal Buggy Swires.
We are told 'this disruptive, character-driven thriller centers on Terry Pratchett's misfit cops as they fight to save a ramshackle city of normalized wrongness, from both the past and future in a perilous quest. Modern and inclusive, The Watch features many famous "Discworld" creations including City Watch Captain Sam Vimes, the last scion of nobility Lady Sybil Ramkin, the naïve but heroic Carrot, the mysterious Angua and the ingenious non-binary forensics expert Cheery together with Terry Pratchett's iconic characterization of Death.'
The Watch was commissioned for BBC America by President and GM Sarah Barnett, and Nena Rodrigue, EVP of Original Programming, Acquisitions and Production. Co-produced with Narrativia and written by Simon Allen (The Musketeers, Das Boot and New Tricks), The Watch is executive produced by Hilary Salmon (Luther, Silent Witness and Three Girls), Ben Donald for BBC Studios and Rob Wilkins for Narrativia. Phil Collinson (Doctor Who) also joins the team as executive producer.
"The Watch has been startlingly reimagined for television by writer Simon Allen, while still cleaving to the humor, heart and ingenuity of Terry Pratchett's incomparably original work," commented BBC America President, Sarah Barnett. "BBC America embraces what's fresh and exhilarating in TV; we believe The Watch will astonish audiences."
Writer Simon Allen said: "With events in our own world making the insanity of 'Discworld' seem outrageously familiar, there couldn't be a better time to bring Terry's fun, fire and fury back to the small screen or a better place than BBC America . I'm grateful to them, BBC Studios and especially Rob Wilkins at Narrativia who has been a constant source of inspiration on this epic and emotional journey."
Hilary Salmon, Executive Producer and Head of BBC Studios Drama Production London, said: "The Watch is a distinctly British but defiantly global exhilarating thriller that is disruptive in its approach to the fantasy genre and also big on the themes of mortality, inclusion, alternative facts and justice. It's a dizzying riot of hope, joy, suspense and audaciously dark humor. We can't wait to work with BBC America to bring it all to life for existing fans and brand new audiences."
Rob Wilkins, Executive Producer and Managing Director of Narrativia, said: "Many years ago Terry made the brave decision to allow brand new Watch stories to be told with his existing characters. It's taken a long time for anything to happen because we guard these characters with our very lives! So many of Terry's biggest ideas seem more vital and urgent now than ever before and I am thrilled to be working with Simon and such a talented team, who understand the unique genius of their creator. They have really keyed into the subversive qualities of Terry's voice and they clearly adore 'Discworld' as much as I and millions of fans around the world do."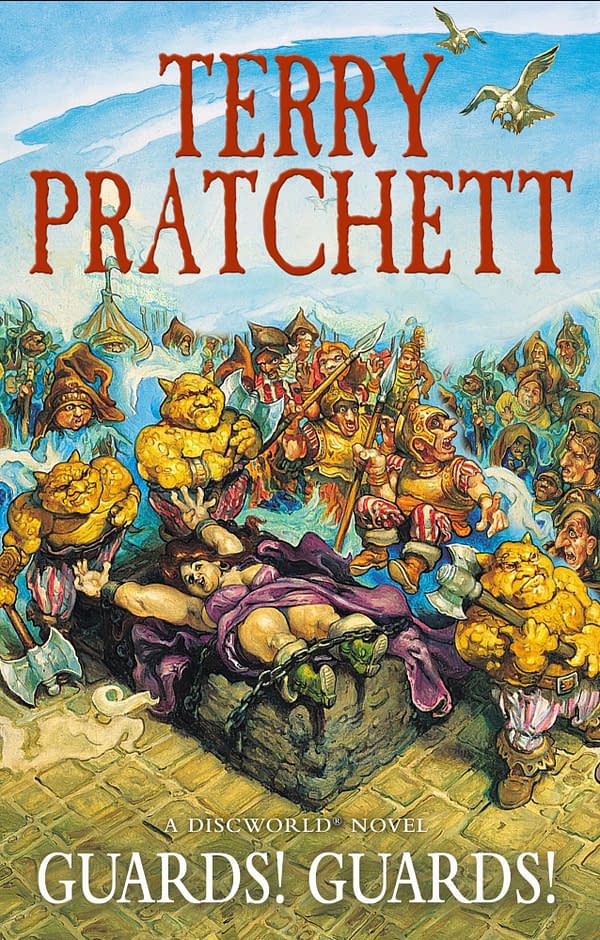 Enjoyed this article? Share it!