ABC Reairing Police Brutality-Themed Black-ish Ep "Hope" Tuesday Night
In honor of the late Gregory Floyd and in support of protests taking place around the globe over his killing at the hands of Minneapolis police officers, ABC and Black-ish creator Kenya Barris announced that the network will re-air the 2016 police brutality-themed second season episode "Hope" (starting at 8 pm ET, and followed by season 4 episode, "Juneteenth").
In "Hope", the Johnson family reacts to a court case involving a Black teenager who was allegedly the victim of police violence. Dre (Anthony Anderson) and Bow (Tracee Ellis Ross) face a dilemma when the kids start asking tough, pointed questions. Dre and his folks (Laurence Fishburne, Jenifer Lewis) want the kids to know the brutal historic truth of how the legal system has treated black people, while Bow looks to remain hopeful about what could still be. Following that, fourth season premiere "Juneteenth" featured musical numbers celebrating the holiday that marks the end of slavery in Texas. Here's a look ar Barris' post announcing the airing, as well as his thoughts on the episode being even more relevant today than it was four years ago: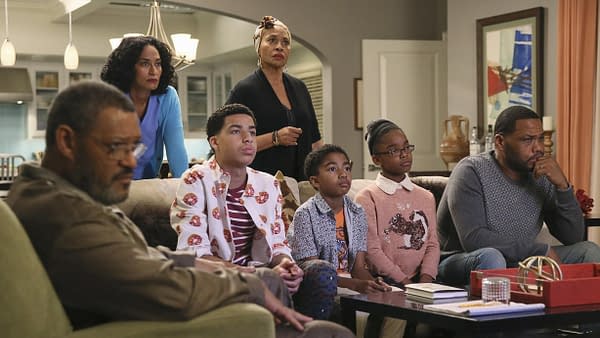 Black-ish Season 2, Episode 16 "Hope": After watching breaking news coverage regarding the indictment of a police officer, Andre and Rainbow teach Jack and Diane the history of discriminatory brutality. Junior tries to sneak down to the protests, but Zoey convinces him to change his mind.
Black-ish Season 4, Episode 1 "Juneteenth": The Johnsons go to Jack and Diane's school play about Columbus Day, and Dre is dismayed by the historically inaccurate way that the holiday is portrayed. He feels like there aren't enough black holidays, so he enlists Aloe Blacc at work to help him create a catchy song to raise awareness for a holiday worth celebrating: Juneteenth.
ABC's Black-ish stars Anthony Anderson as Andre "Dre" Johnson, Tracee Ellis Ross as Rainbow Johnson, Laurence Fishburne as Pops, Yara Shahidi as Zoey Johnson, Marcus Scribner as Andre Johnson Jr., Miles Brown as Jack Johnson, Marsai Martin as Diane Johnson, Jenifer Lewis as Ruby, Peter Mackenzie as Mr. Stevens, and Deon Cole as Charlie Telphy. The series was created by Kenya Barris and is executive produced by Barris, Courtney Lilly, Laura Gutin Peterson, Gail Lerner, Anderson, Fishburne, Helen Sugland, and E. Brian Dobbins. The series is produced by ABC Studios (part of Disney Television Studios), alongside 20th Century Fox Television and Fox 21 Television Studios.