Adult Swim Orders Genndy Tartakovsky's 'Primal' to Series
This is really, really good news.
Genndy Tartsakovsky, the mastermind behind animated classics Samurai Jack, Dexter's Laboratory, and the original Star Wars: the Clone Wars series has a new project, and I'm really pumped up about it.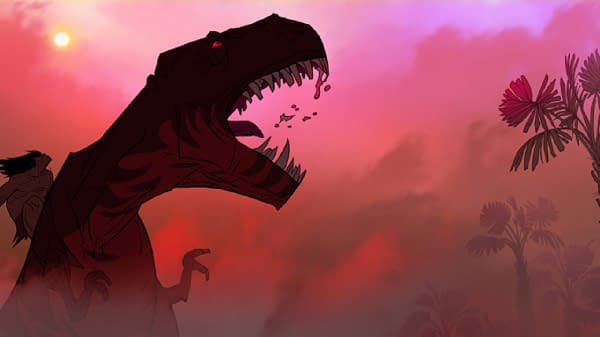 Primal, which debuts on Adult Swim this fall, is about a caveman trying to survive in a world set on destruction, who ends up being best friends with a dinosaur. That's about as epic as epic gets, friends.
Seriously, take a look at the majesty of Primal:
While Tartakovsky is perhaps best known for Samurai Jack, Clone Wars, and Dexter's Lab, he was an instrumental part of the team that brought the Powerpuff Girls to life on Cartoon Network, where the majority of his television work has been focused.
Tarakovsky's earliest work in animation was on the Tiny Toon Adventures and Batman the Animated Series, so he's been working on ground-breaking projects since the beginning of his career.
Samurai Jack ran for four seasons on Cartoon Network before a fifth, final season aired on Adult Swim in 2017.
Tartakovsky was hand picked by George Lucas to helm a Clone Wars cartoon that would bridge the stories between Star Wars: Attack of the Clones and Star Wars: Revenge of the Sith. That series went on to win three Emmy awards in 2005.
Tartakovsky also directed all three of the Hotel Transylvania movies, which have earned over one billion dollars in international box office.
This news follows last week's announcement of a new Birdgirl series starring Paget Brewster, which will also be appearing on Adult Swim later this year. Birdgirl will act as a sequel of sorts to Harvey Birdman: Attorney-at-Law, which inspired 42% of the lawyers I know in the real world to go into law.
We'll have more information on Primal as the series develops!