Sean Aitchison wrote for Bleeding Cool from San Diego Comic-Con:
The final episode of Adventure Time is quickly approaching, bringing a close to one of the most widely loved and influential animated series of all time. At San Diego Comic-Con 2018 I took part in a roundtable interview with John DiMaggio and Adam Muto, where I asked them about their parting thoughts on the series.
* * *
BC: You mentioned you were choking up while recording the last episode of Adventure Time. Can you compare your reaction to the original short and the early episodes with your reaction to reading the script of the final episode?
John DiMaggio: I mean when the show first started, it was all over the place, and then it became this really amazing, special thing. It was a completely different project for me personally, 'cause I just felt like I was in the dark a lot in the beginning of this show, and that's not a reflection on anybody else but me. Everybody else was fine, everybody else knew what the show was.
Adam Muto: That's not totally true, I mean…
John: Really?
Adam: Even on the network side, they were like, "We're still not sure what this is, we bought it and…"
John: (laughs) Alright, I'm not alone, alright.
Adam: 'Cause the pilot did really well, and then they bought it, and then they were like, "What did we buy?" So I think that first season, at least, there was a lot of feeling out what it was, and there was a lot taken for granted, like, "Why is there a rainicorn? Why is there a stretchy dog?" and all those things we didn't explain but you wanted us to explain. (laughs)
John: And that's the thing! I'm trying to find out everything I can of this world for me to make sense of it, and everybody else is kinda [understanding it], and I couldn't get that information, and as an actor it frustrated the hell out of me, and everybody else is kind of laughing it off like, "No, it's coming along," I'm like, "You don't understand! I've gotta know!" And so, it was really difficult.
And then now — still, the land of Ooo, I've said it before, is such a grand place for these characters to live. There's so many stories that they can tell through it that it doesn't matter if I don't know half of the universe, because as a person in that universe, you don't know half of those people anyway, so it doesn't really matter! Yo, man, this show is like life. (laughs)
Adam: (laughs) And I think ten years later, it kind of makes more sense now.
John: No, absolutely, I totally agree.
BC: It's been 10 years on the show, and it's probably your most prominent role. What is the hardest part of saying goodbye?
John: You know, it's really funny, when we ended the show — 'cause we're done, the show is wrapped — when the show ended and I recorded the last episode that I did, I left the studio and I didn't realize how much of me was in Jake, and it just kind of hit me. It walloped me. I didn't even see it coming; I was thinking, "Well, you know, shows end," and all of a sudden it was just like BAM, and I got really upset, and I remember calling my wife like, [incomprehensible crying noises], and she's just like "It's alright," and I was just a babbling idiot.
It really snuck up on me, how emotionally connected I felt to Jake, and I won't be able to do that anymore. There's been so many fun things, as far as doing Jake, and doing the show. There's many instances — it's great to play a magic dog, it's just awesome. Everybody's been great on the show.
BC: Same for you, Adam — difficulties in saying goodbye, favorite moments?
Adam: John has so many roles that he's done, and this has basically been my career for the last 10 years, it's just this one show. So I'm just hallowed out now, there's nothing left… (jokingly looks down)
John: (laughs)
Adam: But it is kind of hard to figure out what project you do after this, 'cause I want it to be different and not trying to recapture what this is, 'cause I want this to kind of stay discreet. It's a thing, and I don't want to step on it or try to revisit it too often. Like, that was a period of time and it existed, and now you can't go back. That's kind of sad, but it is what it is.
John: (puts on grizzled voice) You can never go back, man.
Adam: (laughs) But we got an ending, which is what a lot of shows don't get. We had plenty of time to come to an end, so I feel satisfied with how much time we were given.
* * *
Catch the four-part final episode of Adventure Time, 'Come Along with Me', September 3rd on Cartoon Network.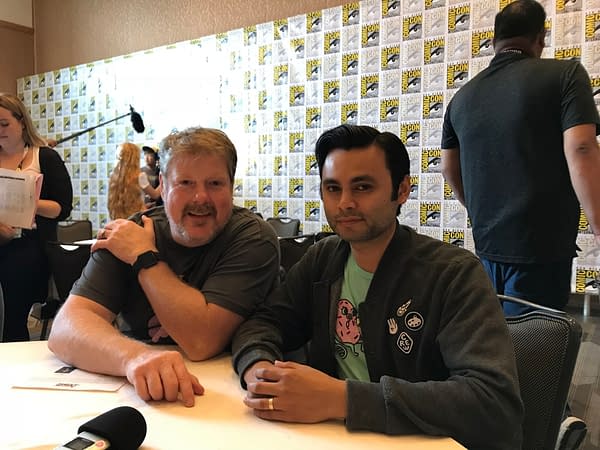 Sean Aitchison is a writer and creator with a passion for cartoons, anime, and comics. He graduated from CSUN and now writes for Comic Book Resources and Watch Mojo. He has also written for animation and is currently working on two podcast projects that will be coming soon. For more of his work, check out his website www.seanaitchison.com and follow him on Twitter and Instagram @Sean8UrSon.
Enjoyed this article? Share it!