AEW Double Or Nothing Results: Penelope Ford Vs Kris Statlander
AEW Double or Nothing action continued with a women's match pitting Kris Statlander against Penelope Ford. Ford had already made an appearance on the PPV, getting involved in the Buy-In ladder match earlier in the night that her fiancee Kip Sabian participated in. They were unsuccessful in their bid to win the match and were looking to be redeemed here against the AEW upstart Statlander. Who came out victorious in the first women's match on the card? Let's find out.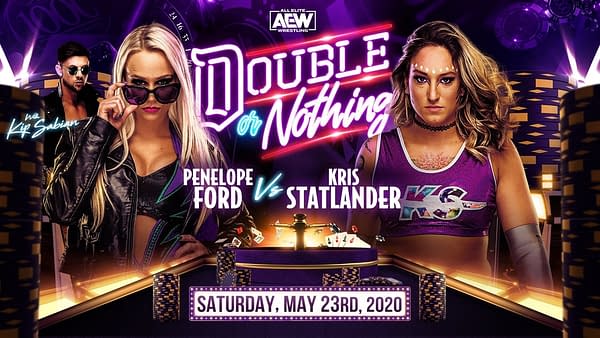 AEW Double or Nothing: Kris Statlander against Penelope Ford
Ford gets taken right down by Statlander to start the match and is using her size to her advantage in the opening moments. Statlander with a series of cartwheels that made me dizzy before Ford starts taking elbows and escapes to the outside. Kip Sabian distracts Statlander on the outside, even on crutches he gets around really well. Ford hits a huge draping DDT for a two count as Statlander gets back in the ring and Ford is now on offense. Ford hitting a slaps on Statlander before she turns the tide and hits a huge suicide dive to the outside on the AEW power couple.
Here's a Look at The Finish
Statlander heads to the top and eats a boot from Ford for a two count. Ford with another close two count before they start trading punches in the center of the ring. Huge slap and German suplex from Statlander but Ford on her heels. Ford with a reverse DDT that looked pretty painful. Some bad botching on a stunner before Statlander puts Ford on the top rope. Ford with a flying huracanranna, But Statlander hits a blue thunder bomb and the Big Bang Theory for the win.
Entertaining match until the end, where they both looked winded and tired. Lots of tough drops there in that closing sequence, with some scary moments. Overall, not a bad start to the women's action on the AEW PPV.