The first hour of AEW Dynamite included two hardcore matches and the AEW debut of Eddie Kingston. Off to a great start, can Dynamite finish strong? Does a bear s**t in the woods? If you have any doubts, read on..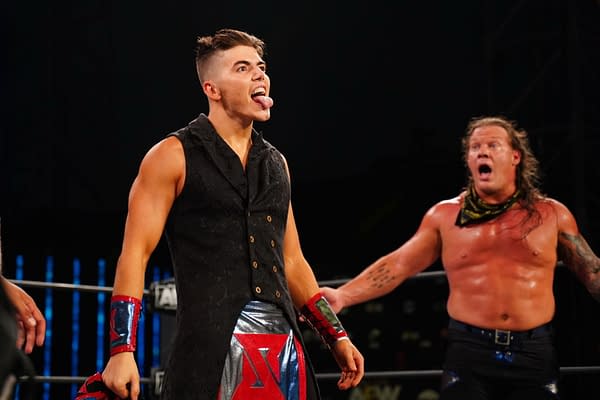 AEW Dynamite 7/22/2020 Part 2 – Starting With Diamante vs. Ivelisse
Diamante comes to the ring, followed by Ivelisse. This is, presumably, a regular match, but who knows tonight. Ivelisse attacks Diamante right away. They exchange blows in the corner. Ivelisse hits an arm drag, then a springboard arm drag. Big Swole interrupts the match picture in picture with a promo. She's mad at Britt Baker. Baker thinks she can get away with things without consequences. But Swole is the one who hands out the consequences. Eventually, Baker will have to face her in the ring and Swole doesn't mind waiting.
In the ring, Diamante hits a dropkick on Ivelisse, who rolls out of the ring. Diamante tries to follow her, but Ivelisse catches her. They brawl at ringside and exchange a lot of chopsDiamante tosses Ivelisse into the ring. When she tries to follow, Ivelisse kicks her in the head and gets a two-count. She puts Diamante in a sleeper. Diamante fights back and puts Diamante in a Cravat. Ivelisse fights back with chops and talks some trash. More chops back and forth. Now slaps to the face. Now kicks to the face.
Diamante hits a pair of clotheslines and a German suplex. That gets a two-count. Ivelisse reverses an attempt at something and hits a powerbomb for two. She runs the ropes and Diamante rolls her up for the win. I've never seen either of them wrestle, but heard a lot of good things. This match was fine but not mindblowing or anything. It didn't help that AEW decided to cut away from the match for an interview with Big Swole. Dynamite goes to commercials.
Winner: Diamante
Hangman Page vs. Alan "5" Angels
Alan Angels, otherwise known as "5," heads to the ring for his match with Hangman Page. Brodie Lee is not with him. Page comes out. He has a mask on under his bandana but rips both off. This should be a squash, but we all know how hard a time Angels gave Kenny Omega, to the dismay of many. That said, Hangman levels 5 with some punches and chops. Angels tries to chop back but Page just laughs. They run the ropes for a bit and Page gets a big boot. Page is acting cocky. He hits a suplex and gets a two-count.
Angels whips Page into the ropes and hits a running knee. He tries a second and Page tosses him to the apron. Page tries a springboard clothesline but 5 ducks and hits a kick. Page responds with a big boot, sending 5 into the ringside barrier. Page follows him outside and tosses him into another barrier. He drops him rib-first on the barrier, then tosses him back into the ring.
Now the Dark Order comes out to stand at the top of the stage, sans Brodie Lee still. Does Brodie have the COVID? Sorry, but I gotta ask. Dynamite goes to commercials.
After the break, 5 hits a step-up Senton on Hangman's back, but Page gets the knee up when he tries some flippy stuff. Page misses a big clothesline and 5 hits a series of kicks. He bounces off the ropes but Page follows and hits a big clothesline. Page charges 5 in the corner, but 5 gets about up. Page catches the boot. HE hits the fallaway slam. Then a rolling elbow. That gets a two-count. Page hits a pop-up powerbomb for the three-count.
Winner: Hangman Page
At the top of the stage, the Dark Order is disappointed. Short but effective match to showcase Page, who has come a really long way over the past year. He invites the Dark Order to come to the ring. Now Brodie Lee comes out with Colt Cabana. Lee comes to the ring. He's been nothing but impressed with Page. He was impressed with that match and Page's rise to stardom. But Lee is not impressed with PAge's lack of friends and lack of a tag team partner when he's clearly in immediate danger. Lee wants to offer to protect Page, and they would never once leave him alone, at a bar or in the ring.
Page takes the mic. He appreciates the compliments and the offer. But he's not sure he's ready to join a cult right now. Lee tells "Cowboy" he just made his bed and now he has to sleep in it. Lee and Cabana head backstage. The rest of the Dark Order enter the ring. Page attacks first and gets in some hits, but he's overwhelmed. FTR come out with a cooler that they smash on the Dark Order. Kenny Omega comes out after FTR have already cleared the ring, a fact the announcers don't fail to point out. Hangman accepts a handshake and beer from FTR. Page and Omega are left in the ring alone. There's tension!
Jim Ross reminds everyone to wear their masks and then hypes next week's show. Page and Omega vs. Dark Order for the Tag Team belts. Hikaru Shida will face Diamante. Darby Allin and Jon Moxley will face Brian Cage and Ricky Starks in a tornado tag. And Cody Rhodes will defend the TNT Championship. Tony Schiavone shills AEW action figures. I want them. Any readers out there want to send me a gift? Email me. Remember, I watch Raw every week so you don't have to. That's worth a couple of measly dolls, isn't it? It's time to give back, people! Dynamite goes to commercials
Jurassic Express vs. Inner Circle
Jurassic Express head to the ring for the main event. Tony Schiavone wishes Excalibur a belated Happy Birthday. Tony wasn't here last week because his COVID test was late, though he turned out to be fine. The Inner Circle comes out now. Chris Jericho has Floyd with him. It's Jericho and Jake Hager vs. Luchasaurus and Jungle Boy. Jericho and Jungle Boy start things off. Jericho gets the upper hand immediately and beats down Jungle Boy in the corner. He hits him with some chops and tosses him into the opposite corner. Jungle Boy leaps over Jericho's charge and hits a pair of armdrags and a dropkick.
Both men tag out. Luchasaurus and Hager get in each other's faces. They exchange haymakers. Luchasaurus ducks a clothesline and hits one of his own. Now the trade kicks and shoulder blocks. Luchasaurus hits a roundhouse to the head and tries a chokeslam, but Hager reverses to an angle lock. Luchasaurus fights out, but Hager gets another one. Hager reaches the ropes near his corner and Luchasaurus has to break. Jericho tags in and goes to work on Luchsaurus's leg. He hits a chop block and tags Hager back in. Hager puts a sleeper on a seated Luchasaurus, then goes after the leg again. Luchasaurus reaches the ropes, but Hager uses the ropes for leverage to inflict more pain during the ref's count. Hager brings Luchasaurus into his corner. Luchasaurus fights back, but Hager hits a chop block. A couple of Irish whips later, both men collide with each other with a double clothesline.
Jungle Boy and Jericho tag in and Jungle Boy goes nuts on Jericho and Hager. He dives out and takes out the entire inner circle, then hits a slingshot DDT. Hager breaks up the pin. Marko Stunt sneaks in and dropkicks Jericho into a rollup which gets two. It's pretty much chaos now. Jericho punches Marko off the apron. Dynamite goes to commercials for the last time tonight.
Back from break, Jericho is in control. He hits a standing vertical suplex on Jungle Boy, which gets a two-count. Jericho punishes Jungle Boy for his insolence. He pounds on him in the neutral corner as they work their way to the middle turnbuckle. Jericho wants a superplex, but Jungleboy knocks Jericho down and hits a diving crossbody for two. Jericho responds with a clothesline. He tags in Hager, who works on Jungle Boy's arm. And his face. With punches. Jungle Boy fights back and tries a sunset flip, but Hager avoids it. Jungle Boy avoids a charge by Hager and tries to tag in Luchasaurus, but Hager catches him and drags him back to his corner.
Jericho tags in and brings his baseball bat. Aubrey Edwards tries to take it. Jericho argues, and Aubrey shoves him. Jericho backs off. He hits a backdrop on Jungle Boy. Jungle Boy rolls up Jericho and gets two. Jungle Boy hits a clothesline and crawls for the hot tag, but Jericho grabs his foot. Jungle Boy hits an enziguri, but Jericho tags Hager and Hager gets to Jungle Boy before Jungle Boy can tag out. Hager puts him in a headlock. Jungle Boy fights back. Hager tags in Jericho. They hit him with some chops and go for a double suplex, but Jungle Boy reverses to a double DDT.
Jungle Boy crawls toward Luchasaurus. He gets the hot tag. Luchasaurus takes on Jericho and Hager with chops and kicks. He hits a clothesline on Hager. He tries a double clothesline, but it's not happening. Lucharaurus does a flip and kicks both men in the face. Time for chaos. Jungle Boy is in. Marko Stunt gets involved while Aubrey is distracted by the inner circle. Luchasaurus hits a shoulder tackle and a spinning kick to Jericho's head for two. Luchasaurus wants the clothesline. Santana gets up on the apron. Jungle Boy hits a hurricanrana on Santana, off the apron, and into Ortiz.
Serpentico hops over the barrier and onto the apron and hits Luchasaurus with a bat. Jericho hits the codebreaker on Lucharaurus for the pin. The Inner Circle and "Serpentico" beat down Jurassic Express. Serpentico hits a shooting star press on Luchasaurus and then removes his mask to reveal… Sammy Guevara! He's back! Sammy and Jericho hug. The Inner Circle beat down Jurassic Express some more. Orange Cassidy's music plays. He saunters to the ring, but Best Friends run to the ring. The Inner Circle retreats. Tony Schiavone announces Best Friends, Orange Cassidy, Jungle Boy, and Luchasaurus vs. The Inner Circle for next week's Dynamite as this week's Dynamite goes off the air. God f**king damn, what a show. Now onto NXT…
Winners: Inner Circle
---
This post is part of a multi-part series: Wednesday Night Wars 7/22/2020.
AEW Dynamite 7/22/20 Part 2 – Who's That Under the Mask?
Enjoyed this article? Share it!