AEW Dynamite Recap: What Happened at the Holiday Bash?
Welcome to The Shovel: Wednesday Night Wars Edition, a column wherein usually I watch four straight hours of wrestling starting with AEW Dynamite and then following up with WWE NXT on DVR and tell you what happens so you can live a life that isn't insane. But this week, Dynamite is preempted for a basketball game, which means I'll be watching NXT first and Dynamite last, which messes with my whole flow.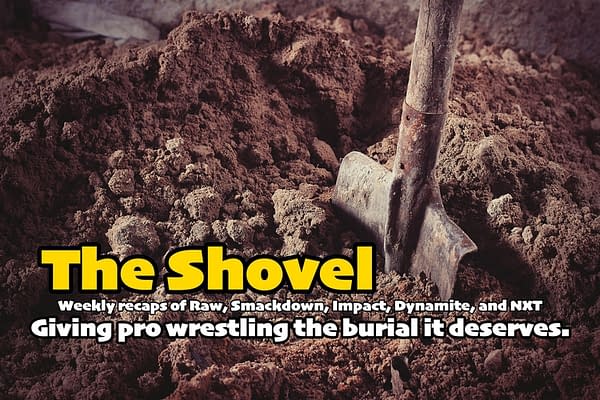 [MULTINAV]
AEW Dynamite Recap for December 23rd, 2020
Chris Jericho and MJF vs. Top Flight
After a really close NBA opener, Chris Jericho and MJF, backed by Jake Hager, head to the ring to kick off AEW Dynamite's Holiday Bash. Top Flight head to the ring. They have a match. Why do people complain that Jericho is fat and out of shape? I think it works for his character. Has the dad bod gone out of fashion already? Damn you, 2020!!
Jericho is more than happy to put over younger talent at this stage of his career, but there are limits. Top Flight put up a good fight, but just when they might have a shot at pinning MJF, Jake Hager interferes and allows MJF to pin Darius Martin with a piledriver.
Winners: Chris Jericho and MJF
Hager congratulates MJF and Jericho after the match. He says that since they agreed to be a team two weeks ago, they've been winning because everyone has done their job. Except for one person: Wardlow. Hager lets loose on Wardlow and to make a long story short Tony Khan gave him a match against Wardlow for next week. MJF isn't happy. JR is though. "Two bulls colliding next week!" he squeals.
The Acclaimed have a new rap video, talking trash about the Young Bucks. Dynamite takes a commercial break.
Promo: Sting
Tony Schiavone interviews Sting in the ring. He asks Sting how it feels to be back on TNT and in AEW. Sting says he feels like he's come full circle. He helped build the original jungle and he's glad to see the jungle is still intact and he gets to be a part of it. He likes the jungle. They have fun and games. They've got everything you want. Sting grew up in the jungle. He befriended a panther and a bear, and one time this monkey tried to–
Tony asks him what he wants from Darby Allin. Sting says he remembers Dusty Rhodes helping him early in his career and when he saw what Cody Rhodes was doing with AEW he wanted to be a part of it. The crowd chants "welcome home." They are basically just redoing the last Sting interview.
He's finally about to talk about Darby Allin but Taz interrupts. He talks trash about Sting and about Tony. Ricky Starks says Team Taz doesn't care why Sting is here, but they do care Sting sticks his nose in their business. Taz orders the team to attack. The lights go out. They come back on and Darby is in the ring with Sting. Sting has a bat and Darby has a skateboard. Taz decides to retreat.
Sting and Darby stare at each other and Dynamite takes a commercial break. Then MJF talks with Santana and Ortiz. He bonds with Santana about them both losing a close relative lately.
Colt Cabana, 5, and 10 vs. Jurassic Express
The Dark Order head to the ring. Jurassic Express follows. They have a match. Jungle Boy pins Five after an assisted powerbomb with help from Luchasaurus.
Winners: Jurassic Express
Tony Schiavone tries to interview Jurassic Express after the match, but before he can, Tully Blanchard interrupts from the Khantron with FTR. FTR stands in Jurassic Express's way in the tag title scene. Tully says that in two weeks, on January 6th, FTR will take out Jurassic Express, and if Marco Stunt gets involved, Tully might have a flashback to the 80s. I thought Dynamite basically was one big flashback to the 80s? (And 90s.) Dynamite takes a commercial break.
Interview: Don Callis and Kenny Omega
Alex Marvez tries to interview Don Callis and Kenny Omega in the lobby of their hotel. Callis complains about Tony Khan letting Rey Fenix and Pac book a match with Omega. Omega gives a message to Rey Fenix and Pac: Fenix choked in the AEW Tag Team Championship match, in AAA, and in the Eliminator tournament. He's gonna choke when he faces Omega. Kenny is worried he may put Fenix out of AEW for good. Callis says Impact isn't interested in him, but maybe Konnan will take him in AAA.
The Butcher vs. Pac
The Butcher heads to the ring with The Blade, The Bunny, and the Eddie Kingston. Well, the Kingston goes to the commentary table. Pac comes to the ring with Pentagon. They have a match. Pac hasn't really played the underdog in AEW, but he does here to the larger Butcher. It works well enough. Lance Archer comes out to menace Eddie Kingston, evening the odds a little. Pac hits the Black Arrow for the pin.
Winner: Pac
Archer tries to make friends with Death Triangle after the match.
In a video, Jade Cargill implies that Brandi Rhodes got pregnant just to duck her. Cargill says Brandi better find her a worthy replacement opponent.
Interview: Miro, Kip Sabian, and Penelope Ford
Tony Schiavone interviews Miro, Kip Sabian, and Penelope Ford. Sabian says his wedding will be the first wrestling wedding ever on TNT and it's a huge deal. They're gonna reveal the date of the wedding, but Best Friends' music plays.
Turns out it's a prank by Sabian, Miro, and Ford. Actually, Trent is being loaded into an ambulance backstage while Chuck Taylor and Orange Cassidy watch. Now we see the date. It will happen at the special Beach Break episode of Dynamite on February 3rd. I don;t think it's a good idea to book your wedding for an event named after your rival's finisher.
Evil Uno vs. Dustin Rhodes
Evil Uno is in the ring. Dustin Rhodes comes out with Lee Johnson. Uno slaps Rhodes in the face during his entrance and the match gets going quickly .It ends relatively quickly too, by Dynamite standards, with Rhodes getting the pin off a running bulldog.
Winner: Dustin Rhodes
Evil Uno continues to try to recruit Dustin Rhodes to the Dark Order after the match. Rhodes makes like he may shake his hand but then kicks him in the head instead. Stu Grayson jumps Rhodes. He takes out Lee Johnson and hits Knightfall on Rhodes. QT Marshall comes out and gets his ass kicked too. But then Johnson comes out of the sky with a double dropkick and sends the Dark Order running.
Interview: Shawn Spears
Tony Schiavone interviews Shawn Spears backstage. Spears says that AEW has the same glass ceiling as WWE. Management here is holding him down just like he was there. Schiavone asks Spears if he ever considered he might be the problem. Spears says he has thought about it, but the problem isn't him. He calls Schiavone a piece of shit and ragequits.
Hikaru Shida vs. Alex Gracia – AEW Women's Championship Match
Dasha interviews Hikaru Shida, but before Shida can say anything, Abadon attacks her. Officials pull her off. Shida heads to the ring. Alex Gracia is already there. Gracia won her spot in this match on Dark on Tuesday. They have a match. Mid-match, Abadon appears in the crowd, causing Shida to attack. Shida beats up Abadon at ringside and nearly gets counted out and then nearly rolled up for a pin. She quickly regains control, hits a backbreaker and a falcon arrow, and actually gets the pin with the falcon arrow.
Winner: Hikaru Shida
After the match, Shida grabs a kendo stick and pokes Abadon with it. Abadon gets up and attacks. They brawl at ringside. Abadon bites Shida's neck. "Blood" gets everywhere. Dynamite takes a commercial break.
Commentary tells us about the card for New Years Smash. On night one: Kenny Omega vs. Rey Fenix for the AEW Championship. The return of Jon Moxley. Hikaru Shida vs. Abadon for the AEW Women's Championship. Jake Hager vs. Wardlow. On night two: Darby Allin vs. Brian Cage for the TNT Championship. Cody Rhodes vs. Matt Sydal.
The Acclaimed vs. The Young Bucks – AEW Tag Team Championship Match
The Acclaimed rap their way to the ring. The Young Bucks come out, no rapping. They have a match. The Bucks have the advantage for most of the match, but in the finish, Nick Jackson accidentally superkicks the ref, opening himself up to a low blow and a shot to the head with a boom box. By the time a new ref runs out, however, he kicks out. Matt Jackson powerbombs Anthony Bowens through a table outside and Max Castor eats a BTE trigger for the pinfall.
Winners: The Young Bucks
Final Thoughts on AEW Dynamite
I have to admit, I was feeling a little fatigued watching AEW Dynamite in the back half of a Wednesday. I really do wish these shows were on different nights. Two hours of wrestling is about perfect for a single night, two hours and forty-five minutes for a PPV. When you go over that, except in rare circumstances, it just starts to drag. But wrestling fatigue aside, this was a fine episode of Dynamite. I thought the sparkling green and red graphics really added some holiday cheer to the show.