AEW Dynamite: Saraya, Toni Storm Turn Heel on Life-Ruining Episode
Saraya and Toni Storm made a shocking heel turn on this week's episode of AEW Dynamite, and The Chadster will never ever forgive Tony Khan for this!
---
Once again, The Chadster's week has been totally ruined by another action-packed, entertaining episode of AEW Dynamite. You would think Tony Khan would give The Chadster a break once in a while, but no, he's OBSESSED with The Chadster and this is how he gets his sick pleasure week after week. Let's go through all the things The Chadster hated about AEW Dynamite this week.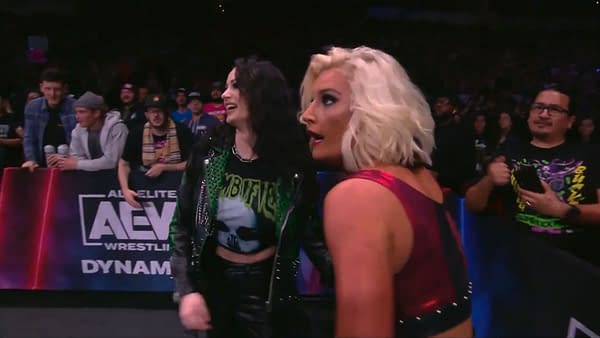 Orange Cassidy defeated Jay Lethal to retain the AEW All-Atlantic Championship in the opening match of AEW Dynamite, with help from Danhausen, as both competitors' entourages feuded in the seats. This match was very entertaining with lots of silliness and a crowd-pleasing victory, and it drove The Chadster absolutely nuts! Under no circumstances should wrestling bring a smile to anyone's face!
Top Flight scored an upset victory over the Young Bucks in a tag team match. The Chadster hated this for multiple reasons. First and foremost, it was a fast-paced, high-flying match with lots of false finishes, and The Chadster hates wrestling that keeps him on his toes. Secondly, it helps to elevate young talent, which ensures AEW will have a bright future, which is the last thing The Chadster wants. Finally, it makes the Young Bucks look selfless, which really cheeses The Chadster off after they drove The Chadster's hero, CM Punk, out of AEW. Yes, The Chadster hated CM Punk when he was wrestling for AEW, but when he tried to destroy it at that press conference, The Chadster became his number one fan.
Ricky Starks beat Jake Hager as he continues his feud with Chris Jericho and the Jericho appreciation society. Everyone knows how The Chadster feels about Jericho, a traitor who literally stabbed Vince McMahon right in the back when he joined AEW, illegally putting over young AEW stars with the heat he was given by WWE for years. It really cheeses The Chadster off that Jericho is allowed to get away with this. Whatever happened to justice?! Whatever happened to integrity?
Bryan Danielson beat Bandido, moving another step closer to earning an Iron Man match with MJF at Revolution. The Chadster really despised everything about this match. First, it always pleases the AEW fans to see a technical wrestling clinic, and if anyone doesn't deserve to be pleased, it's the people who support AEW and watch or attend AEW Dynamite. Not only that, but it led to a great promo by MJF, and then a segment later where MJF paid Brian Cage to wrestle Danielson next week and break his arm. If there's one thing that doesn't have any place in pro wrestling, it's long-term storytelling.
Saraya and Toni Storm seemed to turn heel when, after Storm beat Willow Nightingale in a match, Saraya and Storm attacked her as Hikaru Shida stood by, looking bewildered. Ruby Soho made the save. It irritates The Chadster immensely that Tony Khan listened to the fans and decided to make Saraya a heel. Giving the fans what they want is a surefire recipe for entitled fans who cheer the people they're supposed to boo and boo the people they're supposed to cheer. Tony Khan would know this if had even the slightest respect for the wrestling business and everything WWE has done for it.
In the main event, Darby Allin beat KUSHIDA to retain the TNT Championship. This is yet another example of AEW Dynamite ending on a high note and sending the fans home happy, which is the last thing in the world anyone should be trying to do. But Tony Khan knows how much it hurts The Chadster to watch an episode of Dynamite like this, and not only does that not stop him, but The Chadster is pretty sure it's the number one reason he does it! Auughh man! So unfair!
AEW Dynamite this week also featured an interesting segment where Billy Gunn set up a family therapy for his sons and The Acclaimed for next week. It also had a heartfelt interview between Hangman Page and Renee Paquette. The Chadster really doesn't like seeing this kind of emotional depth and variety in a wrestling TV show. Where are the fart jokes? Where are the cuck angles? Does Tony Khan understand the first thing about pro wrestling? No, of course he doesn't. That's what The Chadster has been trying to tell everyone for years now!