Agent Elvis Teaser: Matthew McConaughey Voicing "King of Rock & Roll"
With the adult animated series hitting Netflix in March, here's a look at the official teaser for the Matthew McConaughey-voiced Agent Elvis.
---
And just like that, a Netflix animated series that spotlights Elvis Presley's double-life as the "King of Rock & roll" as well as a secret agent just became one of our must-see series for 2023 (and we're only two months in). And before anyone screams, "Sacrilege!", the ten-episode Agent Elvis was created by Priscilla Presley & John Eddie (with Eddie co-showrunning with Mike Arnold). And just in case you didn't think the show's creators & producers weren't messing around, they have none other than Academy Award-winner Matthew McConaughey voicing the lead role. But what would an announcement be without some cool stuff to look at, right? First up, we have two official images from the animated series for you to check out (followed by a chance to see "The King" kicking ass and taking names: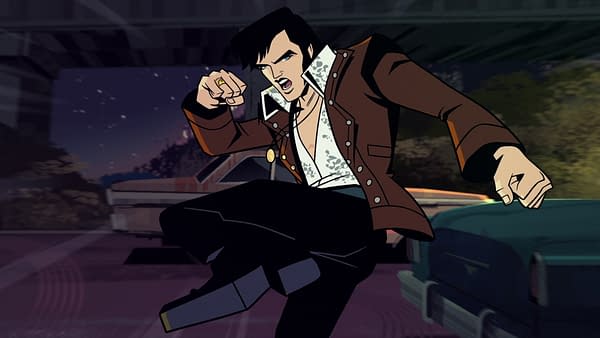 With the adult animated series set to hit the streaming service this March, here's a look at the official teaser for Netflix's Agent Elvis:
Netflix's Agent Elvis was created by Priscilla Presley and John Eddie and was developed by co-showrunners Eddie & Mike Arnold, who also serve as executive producers along with Kevin Noel, McConaughey, and Presley, with Fletcher Moules serving as co-executive producer and Seranie Manoogian as producer. Jamie Salter, Corey Salter, and Marc Rosen with Authentic Brands Group also served as executive producers. Vancouver-based Titmouse served as the animation studio with Chris Prynoski, Shannon Prynoski, Antonio Canobbio, and Ben Kalina serving as executive producers and Gary Ye as the supervising director, Chris Thompson as art director, and Josue Sanchez as editor. Robert Valley created original character designs, and Agent Elvis' wardrobe was designed by John Varvatos. The music and original score were composed by Tyler Bates and Timothy Williams.