A synopsis has been released for the penultimate episode of what may be the finale chapter of Marvel's Agents of SHIELD. And while the synopsis doesn't really give away too much… read that as 'anything'… it does make one thing clear, the fact that ABC has not given the series a renewal and all of the shows cast and crew talking about how they are treating the season finale as a potential series finale makes it feel like the stakes have been raised. If the show is writing like there is not tomorrow, then anything could happen. They could go ahead and blow up the Earth and prove Fitz (Iain de Caestecker) right that time can't be changed. They could kill all the characters off. They could bring back Nick Fury (Samuel L. Jackson) and have him standing over an operating table as Phil Coulson (Clark Gregg) wakes up from the Tahiti program for the first time and all five seasons were a dream. Or the entire show could take a drastic right turn after what happens in Marvel's Avengers: Infinity War just like they did after Captain America: the Winter Soldier…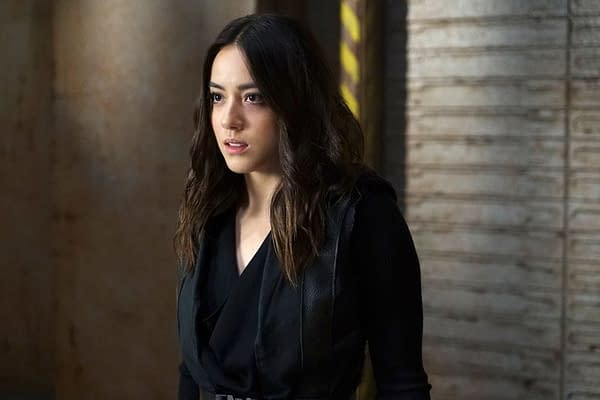 The point being that just about anything can happen because Marvel's Agents of SHIELD may be down to their final four episodes… And here is what they're telling us now is going to happen in episode 21:
DAISY'S FUTURE COULD MEAN THE END, ON ABC'S 'MARVEL'S AGENTS OF S.H.I.E.L.D.'

"The Force of Gravity" – Daisy's future as the destroyer of worlds could take a critical change, on "Marvel's Agents of S.H.I.E.L.D.," FRIDAY, MAY 11 (9:01-10:01 p.m. EDT), on The ABC Television Network, streaming and on demand. "Marvel's Agents of S.H.I.E.L.D." stars Clark Gregg as Agent Phil Coulson, Ming-Na Wen as Agent Melinda May, Chloe Bennet as Daisy Johnson, Iain De Caestecker as Agent Leo Fitz, Elizabeth Henstridge as Agent Jemma Simmons, Henry Simmons as Agent Alphonso "Mack" MacKenzie and Natalia Cordova-Buckley as Elena "Yo-Yo" Rodriguez. Guest starring are Adrian Pasdar as Glenn Talbot, Jeff Ward as Deke, Brian Patrick Wade as Carl Creel, Maximilian Osinski as Agent Davis, Peter Mensah as Qovas, Lola Glaudini as Polly Hinton, Lexy Kolker as Robin Hinton, Jack Fisher as George Talbot, Raquel Gardner as Carla Talbot, Chen Tang as Agent Kim and Craig Parker as Taryan. "The Force of Gravity" was written by Drew Z. Greenberg & Craig Titley and directed by Kevin Tancharoen.
Well… looks like Talbot will get to see his family again. That's good.
Marvel's Agents of SHIELD airs Fridays at 9 PM on ABC.
Enjoyed this article? Share it!