American Horror Story's Ryan Murphy on 'Coven' Return: "The Witches Will Be Back"
Ummm…did you really think Wednesdays were getting cancelled?
Thought it was time to pack away the black, witches?
In case you thought all of the Murder House/Coven crossover magic from Ryan Murphy and Brad Falchuk's FX horror anthology American Horror Story: Apocalypse went away with the Michael Langdon (Cody Fern) timeline (it's been awhile so no spoiler warnings), Murphy has made it known that Wednesdays will still be for wearing black – and it might be sooner than fans think.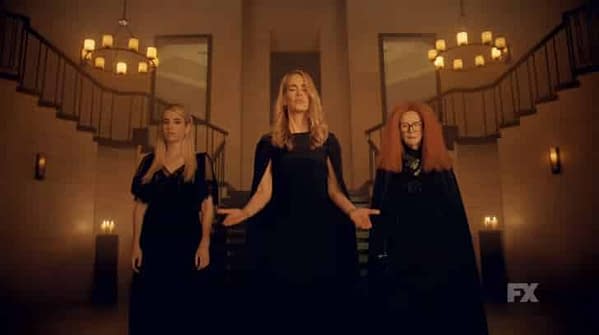 Speaking with Entertainment Tonight following the occasion of his being honored with a star on the Hollywood Walk of Fame on Tuesday, Murphy may have actually beaten his own record by offering some very tantalizing teases for American Horror Story's future – both next season and beyond. When asked about the possibility of Cordelia (Sarah Paulson) and her coven (Billie Lourd, Leslie Grossman, Emma Roberts, Taissa Farmiga, Frances Conroy, Gabourey Sidibe, and Lily Rabe…and hopefully Stevie Nicks and Joan Collins) making a return appearance, Murphy was surprisingly candid:
"The witches will be back. Not next season, but we have something really fun planned."
So if we're not getting our witches back next season, what can fans expect? C'mon, folks! This is Ryan Murphy we're talking about here – did you really think it was going to be that easy? Two takeaways from his response, though? They have a storyline, and the cast he's interested in are about to get the reveal:
"I can't say what it is! I'm going to this luncheon, and many of the Horror Story actors are there, and I'm gonna tell them for the first time. So I have to tell them first."
https://youtu.be/xKrpgJTS-Vg
Sarah Paulson, Jessica Lange, Emma Roberts, Connie Britton, Dylan McDermott, Evan Peters, Kathy Bates, Cheyenne Jackson, Billie Lourd, Billy Eichner, Adina Porter, Leslie Grossman, Taissa Farmiga, Gabourey Sidibe, Lily Rabe, Frances Conroy, and Stevie Nicks returned to Murphy's horrific universe this season for the crossover event; joined by Joan Collins (Dynasty), Cody Fern (House of Cards), Ashley Santos (We All Fall Down), and Kyle Allen (The Path) serve as new cast members for the season.