Albert Pujols Becomes The 32nd Player With 3,000 Hits
Albert Pujols became the 32nd MLB player is history to join the 3,000 hit club tonight. The hit came in the fifth inning of tonights game in Seattle against Mariners pitcher Mike Leake with Pujols poking a base hit into right field for a single. And here it is!
His teammates joined on the bag at first in celebration afterwards.
Albert now joins players like Craig Biggio, Eddie Murray, Derek Jeter, Willie Mays, Hank Aaron, Ichiro Suzuki, and more in the esteemed club that pretty much means you will be in the Hall of Fame someday. His case was pretty iron clad before that, but this is just the final stamp on what has been one of the greatest careers in baseball history.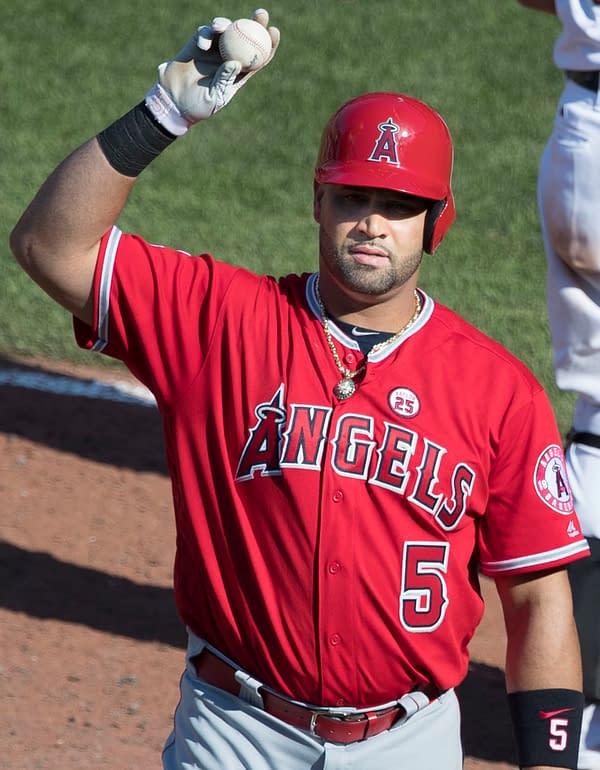 Here is what I wrote yesterday morning in the daily MLB Picks column:
Baseball history should occur tonight, as Albert Pujols places his final stamp on his surefire first-ballot Hall of Fame status. He is now only two hits shy of 3,000 for his career, a feat only accomplished by 31 other players, most recently last year by Adrián Beltré. Pujols resume is as close to impeccable as it gets- 2 World Series Championships in St. Louis, 3 NL MVP awards, a 10-time All-Star, 6 Silver Slugger awards, 2 Gold Gloves, he was the NL Rookie of the Year in 2001, is a career .304 hitter, has 620 home runs (and an outside shot as making it to 700, becoming only the 4th person to do so), and 1,932 RBI's. As of right now, he will go down as one of the 20 best baseball players ever to step on a field. Tonight should see one of the cooler celebrations we will have all year in baseball. I would say that is worth tuning in for.
The Machine is truly one of the greatest hitters of all-time, and one of the best ambassadors baseball can have. A special moment in baseball history for sure.
Congrats Albert!