Netflix has released a new viral video for their upcoming science-fiction thriller, Altered Carbon. The video is a history of immortality that asks the questions: What will become of the human species? Can we prolong human life? Is death avoidable? It has Steve Aoki, Richard K. Morgan and more answer these questions in a documentary piece narrated by Neil deGrasse Tyson.
In the new series by author Morgan (who appears in the video), immortality is possible and has been happening for hundreds of years. People's memories are kept on ships called stacks and transferred to new bodies, called sleeves, whenever someone dies. As long a the stack is saved, the person can live forever.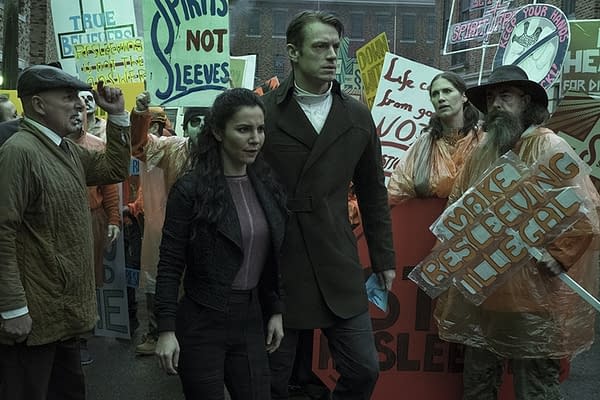 The series focuses on Laurens Bancroft (James Purefoy), the wealthiest man on Earth. He has died, and has now hired someone to find out why. To investigate the death, he brings back an ex-Envoy soldier named Takeshi Kovacs (Joel Kinnaman/Will Yun Lee), whom he offers as payment the chance to live again. The series also stars Kristin Lehman, Martha Higareda, Dichen Lachman and Matt Frewer in a role that will remind folks of his days at Max Headroom.
Altered Carbon debuts on Friday, February 2nd on Netflix.
Enjoyed this article? Share it!