This article contains spoilers for Altered Carbon episode nine – Rage in Heaven.
.
.
.
.
.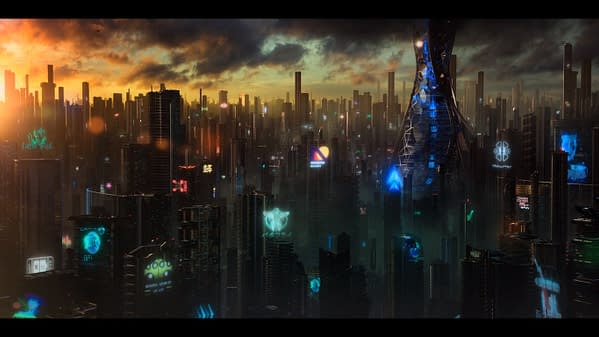 This episode starts off with Kovacs (Joel Kitterman) meeting with Reileen (Dichen Lachman) where he tells her that he doesn't care. She tries to convince him otherwise, but he tells her that he's going to spend some time on an island and then leave Earth. She is upset and as he leaves, she sends the ghost walker to follow him. But he gets into a limo with Miriam (Kristin Lehman) and heads off to her private island. Then we jump back 18 hours with Kovacs trying to reach Ortega or Vernon because he knows what really happened to Bancroft (Jame Purefoy). The Elliot's are off having dinner and talking. Ortega (Martha Higareda) comes through the door wounded. He helps her to the room, puts her in the bath and binds her wounds and while talking with her, figures out that it's actually Reileen wearing Ortega's sleeve. They argue and Reileen says that Ortega cost her a lot of money, and she's going to have her whole family killed. Kovacs tries to stop it, but it's too late. The ghost walker kills them all before he gets there. He races over and finds Vernon (Ato Essandoh) and Ava (Cliff Chamberlain) and gets them back to the Raven when Micky (Adam Busch) shows up worried about Ortega and wanting to help. He takes Micky's ID and tells them all to get out of town.
He gets back and has the 3D printer that Isaac (Antonio Marziale) used to make a clone of his dad. Kovacs uses it to clone himself. No one left and all of them insist on helping with the plan. They figure out how to get onto Head in the Clouds, add a virus to Reileen's backup pincast and use a camera in Kovacs eye to copy her confession. Vernon poses as a General to get into the sex club and he discovers that the package he bought basically allows him to torture, mutilate and then kill a 19-year old girl who thinks she is going to come back to life. He gets furious, but tires to do what he's supposed to. Drugs the girl, opens access for Micky and Ava on the computer, but it's too slow and Kovacs doses himself with reaper to not set off the alarms… meanwhile, the clone of Kovacs is off on an island fooling around with Miriam… Vernon kills a few guards and a host then goes to help Kovacs get to Reileen in time to corrupt her back up. She then tries to convince Kovacs that she did all this for them to start a new life. But eventually she confesses to having Bancroft dosed with a drug to make him out of control by his wife, then let him loose and kill a girl so she could blackmail him to use his influence to kill the bill that would allow the police to re-sleeve murder victims even if they're religious. Which would kill her business. She was stunned to find out Bancroft killed himself rather than remember, but he was too arrogant to accept he committed suicide. She suggested Kovacs because Bancroft has the money and influence to bring her brother back.
But then the guards suddenly appear and disarm Vernon and Kovacs… one more episode to go.
Other than them being related in the series, most of the rest of the reasoning behind Bancroft killing himself matches the book. Though it's Ortega who gets Kovacs onto Head Above the Clouds and not Vernon. Ortega's family is not slaughtered either. One of the interesting things is that the producers / writers must've decided that they were already having Kovacs in too many different bodies with the one in the opening, his original and Riker. Because the changed the torture scene where he's put in a girls body and now they changed the ending where he double sleeves. In the book it's just a synthetic sleeve he uses, not a copy of himself. But by putting the Isaac subplot in you set up the existence of the printer to allow Kovacs to make his own clone and not be in a different body through the climax of the series. Something that wouldn't matter in a book, it's still the same narrator… but in a TV series, you kind of want your star being the hero at the end.
And on to the finale.
Enjoyed this article? Share it!