In a move that is sure to help an evangelical group rest a little easier tonight, Amazon has offered to remove Stranger Things from their lineup of streaming entertainment, but there's a catch- Netflix will need to remove Good Omens from their lineup. The move was made to help appease a group of over 20,000 people in a Christian group that demanded Netflix cancel Good Omens, a show they believe glorifies Satan, mocks god, and is generally up to mischief.
Hey @netflix, we'll cancel Stranger Things if you cancel Good Omens. 😉 https://t.co/EJPmi9rL7g

— Prime Video (@PrimeVideo) June 20, 2019
If you're reading this and getting ready to correct all involved, don't worry- we're all in on the joke. All of us, that is, except the petitioning group, who demanded that Netflix cancel a show they didn't make, don't play, and have no say over. Good Omens is, in every sense of the word, Amazon's baby. Netflix will most likely never play the series, ever. Nor will Amazon ever play Stranger Things for that matter.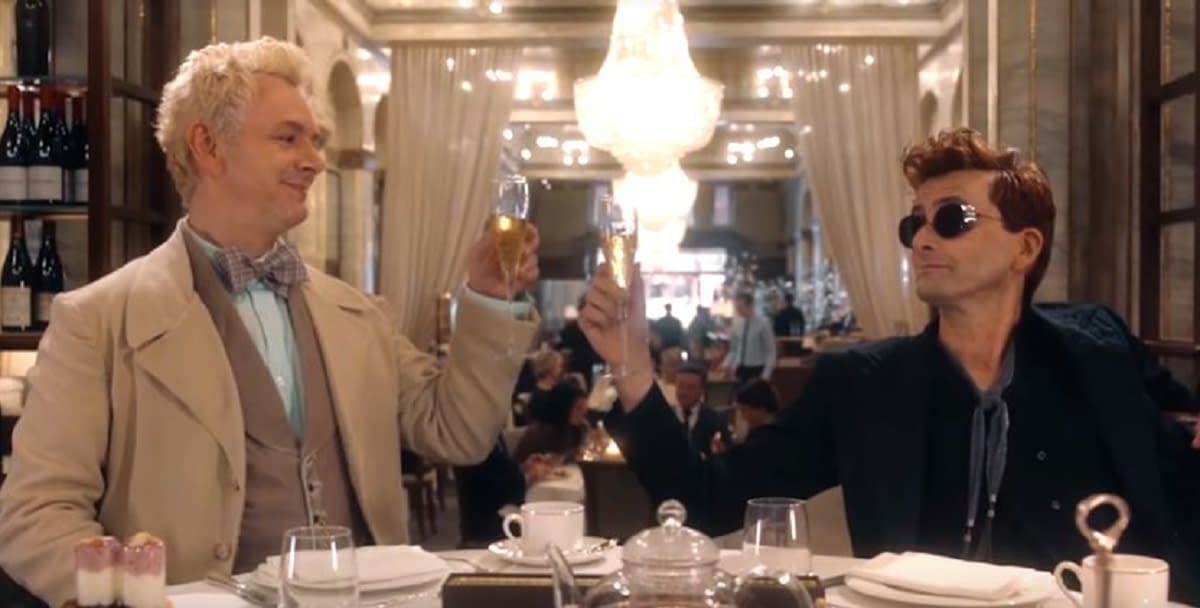 One would hope that the Christian Outrage Committee behind this goofy petition would see the humor behind Amazon's response, but this same group thought that Good Omens was sacrilegious for using a woman to play the voice of God.
Other complaints from this group centered around Good Omens' portrayal of the antichrist as a regular kid, and something-something-outrage-devil-something-something-coolkids-something-David Tennant's pants. I don't speak religiobabble too well, so here's the trailer from Good Omens to destroy what's left of your moral compass:
https://youtu.be/hUJoR4vlIIs
I swear, every time I watch that trailer, I want to commit at least 5 of the 7 deadly sins.
On the positive side, this is all really good publicity for Good Omens, a perfectly harmless, wonderfully entertaining miniseries in six parts that debuted on Amazon last month. The show tells the story of the demon Crowley (David Tennant) and the angel Aziraphel (Michael Sheen), who meet at the Garden of Eden. The story follows their adventures ,and the unlikely friendship they develop over the millennia they spend supposedly working against each other.
It's one of the sweetest romantic comedies ever made, so if you haven't seen it yet, you should check it out!
Enjoyed this article? Share it!